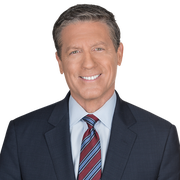 Corey McPherrin was born and raised in Chicago's south suburbs where he dreamed of one day becoming a sportscaster in his hometown.
He started his broadcasting career in Davenport, Iowa in 1977. He also worked as a sports broadcaster in Quincy, Illinois, New Orleans and Atlanta.
While in Atlanta, McPherrin received an Emmy in 1984 as "Outstanding News Performer" in the state of Georgia. Before his return to Chicago, he served as the primary sportscaster at WABC-TV in New York for seven years (1984-91).
During his time in New York, McPherrin also contributed to ABC Sports as a college football play-by- play announcer and reporter for the sports anthology show, "Wide World of Sports."
In 1991, McPherrin came home to Chicago when he assumed sports anchor duties at WBBM-TV. In 1995, he moved to FOX 32 where he now co-anchors FOX 32 News at 5 p.m. and 9 p.m. Monday through Friday.
Previously, McPherrin served as the sports anchor for "Fox Chicago News at Nine" and also co-hosted the Bears pre-game show "Fox Kickoff Sunday," as well as the Sunday night sports wrap-up show, "The Final Word."
McPherrin's earned five Emmy awards during his 26 years at FOX 32 Chicago. A 1977 graduate of Butler University, McPherrin is a former member of the school's board of trustees and in 2002 received Butler's Robert Todd Duncan alumni achievement award. McPherrin is also a recipient of the Significant Sig award for outstanding professional achievement from the Sigma Chi Fraternity.
The latest from Corey McPherrin