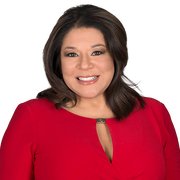 Each morning, when the alarm clock goes off at 2 a.m., the first thought in my mind is where will I be today?
The best part of my job is that every day is different and every day I meet new people who need their stories told. You might see me in the City of Chicago on a crime scene or fire. On other days I'm in the studio or in the suburbs where a home struck by lightning and a family has been left homeless.
Yes, I am a journalist, but I am also a journalist with a flair for story telling. If you tune into Good Day Chicago Monday through Friday, you will discover I wind up with some of the most intersting people in my reports. Some say I am fearless because I will walk up to anyone in any neighborhood and strike up a conversation. You never know what the custodian of a quarantined school will tell you off camera. His information might just lead you to an angle of the story that no one else bothered to investigate.
While growing up in Waukegan, the news was on every night. My father is a news junkie and still is to this day. But I never imagined that one day, I too would become a member of the news media and have opportunities to work in Chicago, New York City, Orlando, and the Quad-Cities. Over the years, I have covered some of the most amazing stories - some are of national importance while others focused on local events that were equally as important to the people of those communities. What I have learned, is that one must take time to listen. Sometimes producers envision a story will go one way...but it's my job to tell them if the story takes a twist or changes. It's my job to know a good "nugget" of information when I see or hear one.
People always ask me, "What's your favorite story?" Here's the truth, there are SO MANY favorites. From the Drew Peterson case (and all it's twists and turns) to the political scandals in Illinois that ultimately cost governors and congressmen their jobs and sent them off to prison. I have covered the election of Barack Obama even before he became America's President and interviewed both Mayors Rudy Guiliani and Richard J. Daley. I was there when TWA Flight 800 exploded off of Long Island and reported on the deaths of Tupac Shakur, Biggie Smalls, Frank Sinatra and Dean Martin. I have unknowingly run onto an active scene where there are gun shots being fired and officers later lost their lives. I have covered the World Series wins of the New York Yankees and the Chicago White Sox and stood in the rain during hurricanes and tropical storms. Seen shark attack victims pulled from the water and told some of the most unbelievable crime stories in Florida. And that's just the serious stuff! Among the many celebrities I have met and interviewed: Mariah Carey, Muhammad Ali, Gladys Knight, Halle Berry, Hillary Clinton, Mia Hamm, Minnie Driver, Shirley Jones, Buddy Guy, and Anita Baker just to name a few off the top of my head.
But the REAL stars are the ones in my family - like my husband, Tom and my son, Seth. Both understand my job often times requires work outside of the studio. I am lucky to have family in Chicago willing to jump in and help when I need back-up.
By the way, if you happen to need YOUR story told, drop me a note at Anita.Padilla@FOXTV.com or contact me on my Facebook page or on Twitter @AnitaPadilla32. Who knows, maybe one day, I'll be telling Chicago what YOU want them to know!
The latest from Anita Padilla