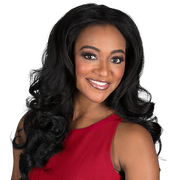 Brittney Payton is a television host, sports enthusiast and fashion fanatic. She appears on the local weekly news program, Good Day Chicago, on FOX 32.
Payton previously co-hosted WGN-TV's, Chicago's Best, for 250 episodes. She received a Chicago Emmy Award as host of the program in 2013. She also contributes to the NFL Network and can be seen presenting the 'Walter Payton Man of the Year Award' each year at the Super Bowl.
Prior to joining Chicago's Best in the Spring of 2010, Payton worked for the Big 10 Network as a reporter and host from 2009 to 2011.
Aside from her on-air activities, she also enjoys being a brand ambassador and emcee for large corporations. In the past, she has worked with companies such as Nike, Burberry, Top Shop, and McDonald's.
Payton received a Bachelors Degree in Communications from DePaul University in 2008. While in attendance, she interned at FOX 32 and ABC 7.
Payton is also very involved with her family's foundation, The Walter & Connie Payton Foundation. She currently lives in Chicago with her husband Jordan and daughters, Blair and Zoe.
The latest from Brittney Payton
Legendary Chicago label Chess Records is often remembered for helping set the stage for the blues.
FOX 32's Brittney Payton heads over to a Chicago staple, Morton's The Steakhouse, to check out their new specially priced menu in honor of their 40th anniversary.