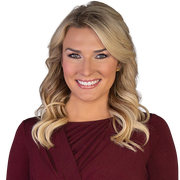 Shae Peppler
Sports Reporter
Shae Peppler is a reporter and host specializing in sports and entertainment. You can find her on FOX 32 Chicago as both a sports anchor and field reporter during the 5 p.m. and 9 p.m. newscasts.
Before landing at FOX 32 full-time, she served as a part-time reporter and host while also working as a weekly correspondent for the nationally televised morning show "Morning Dose," which airs on CW Networks in six of the largest markets in the U.S. During college football and college basketball season, Peppler served as a sideline reporter for Stadium and Facebook properties covering Atlantic-10, Conference USA, and Mountain West conferences. Additionally, she is still a regular contributor on NBC SportsNet Chicago's "Sports Talk Live," hosted by David Kaplan.
Prior to these new ventures in 2017, Peppler spent six years at Campus Insiders, ACC Digital Network and 120 Sports, all under the Stadium umbrella. During her time at Stadium, she primarily covered college football and college basketball, as a host for live shows and segments and a sideline reporter for games streamed on the network(s). She appeared as a rotating host for WCIU's longstanding morning show "You and Me" that touched on all things current events related.
As a broadcast journalism major and kinesiology minor at Indiana University, Peppler's TV career commenced as an anchor, producer and reporter for WTIU-Bloomington, an inside look at Indiana athletics and university news. While at IU, she was an intern for MTV Networks (New York), Showtime Networks (New York), and a production assistant for Chicago Bears games broadcast on CBS.
Upon graduation and moving back home to Chicago, Peppler jumped right into the media world as a football field reporter for the Big Ten Network and a correspondent for a Bears pre-game show, The Chicago Huddle, on ABC 7. In an effort to stake her claim in the entertainment world, she also appeared as an entertainment host for the former CelebTV.com.
In her free time, Peppler enjoys spending time outside with her dog, catching a SoulCycle class and interior design. She is also the co-founder of "Fashion's Fight Against Cancer," a fundraising event birthed six years ago that has raised over $150,000 towards the fight in finding a cure for pediatric cancer.