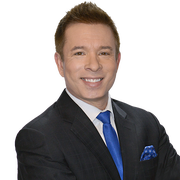 Rafer Weigel returned to his hometown of Chicago after spending the last three years as the weekday evening news anchor at KTVI in St. Louis. While there, Weigel won his first Emmy award for anchoring the station's coverage of Ferguson.
Weigel, an Evanston native, grew up in a media household. His father, the late Tim Weigel, was an iconic sportscaster in Chicago television for decades. In 2011, Weigel was given the opportunity to follow in his father's footsteps as the weekend sports anchor at ABC 7. But eventually, he realized that news was his true calling and knew he needed to make the move to another market to earn his news chops.
It's been a well-traveled road for Weigel. Prior to his first run in Chicago, Weigel was the sports anchor for HLN's "The Morning Express with Robin Meade" from 2008 to 2011 where he covered national stories like the Tiger Woods scandal, several Super Bowls, The Masters and the Olympics. Weigel's first full-time reporting job was at KOVR in Sacramento from 2006 to 2008 where as a general assignment reporter he covered politics at the state capital, the Lake Tahoe Wildfires, and other natural disasters.
He began his journalism career in print working as a staff reporter for the Los Angeles Times covering high school sports before embarking on a television career. He cut his teeth as a "stringer" covering high school sports for the Chicago Sun-Times back in 2002.
Weigel's sister, Jenniffer Weigel, is also a well-known media personality in town and his mother, Kathy Worthington, was a news anchor for WGN radio in the 80's with Wally Phillips.
His grandfather founded Weigel broadcasting.
For fun, he loves to take in all this beautiful city has to offer, from the great restaurants, live music, theatre and his beloved Chicago sports teams. He has one young son who shares his love of sports and will hopefully be the starting point guard for the Chicago Bulls one day.