33 Lake Michigan drownings so far this year; down from 36 last year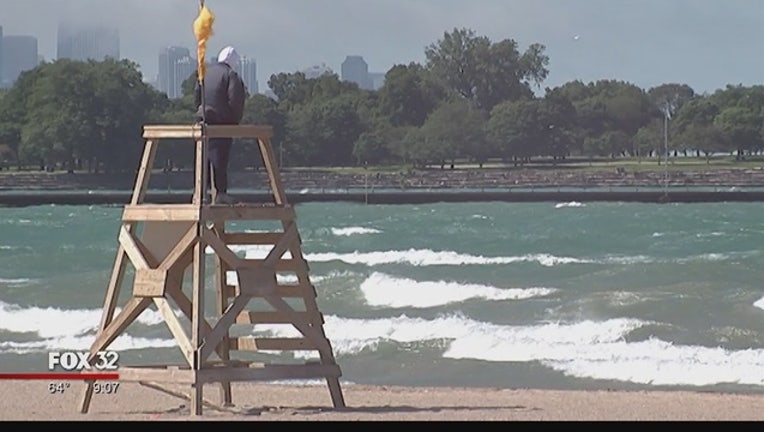 CHICAGO (SUN TIMES MEDIA WIRE) - Mild weather kept Lake Michigan drownings in check this summer.
The lack of prolonged heat waves helped hold down the number of drownings, according to the Great Lakes Surf Rescue Project, a water safety group that keeps tabs on fatalities occurring in the Midwest's major lakes, the Chicago Sun-Times is reporting.
Lake Michigan's official 2017 swimming season ended Monday.
Thirty-three people have drowned in Lake Michigan so far this year, compared with 36 in the same period last year. Earlier this year, three bodies found in the lake are not yet confirmed as drownings, said David Benjamin, executive director of the safety group.
A man was pulled from Lake Michigan on Friday morning near the 31st Street beach, but his cause of death hasn't yet been confirmed nor has he been identified.
"We did see a peak in the spring, early summer and it kind of tapered off," Benjamin said Monday, before heading to a beach in Indiana. "The reason why we think it tapered off is because of the weather" which never really stayed super hot for more than a few days.
"The more you have people going to the water, the more likely you are to have an accident," said Benjamin, who survived a near-drowning accident while surfing in Indiana in 2010.
Since 2010, 605 people have been confirmed as drowning in the Great Lakes, including 69 to date in 2017, 99 in all of 2016 and 55 in 2015.
Chicago's lifeguards — whom Benjamin praised for their proper training and rescue equipment — worked their last shifts on Labor Day. They closed city beaches a few times during the summer after strong winds whipped up dangerous waves and currents.
Still, accidents happen outside of their hours. People don't realize that drowning is a leading accidental cause of death, he said, so they underestimate the danger.
On an unusually warm day in May, weeks before the beaches officially opened, Tianna Hollinside, 13, and Juan Cornelio, 23, separately jumped into a frigid lake and drowned, likely from the shock of landing in 52-degree water.
In July, 31-year-old James Hammond drowned after trying to rescue his young nephew who had fallen from an inner tube near 63rd Street Beach. Two men in their 20s drowned in separate incidents during a rough July weekend when the National Weather Service issued hazard warnings. A 22-year-old Indiana man drowned in late July after jumping into the water near the Shedd Aquarium, where there is no beach.