92-year-old WWII veteran receives honorary high school diploma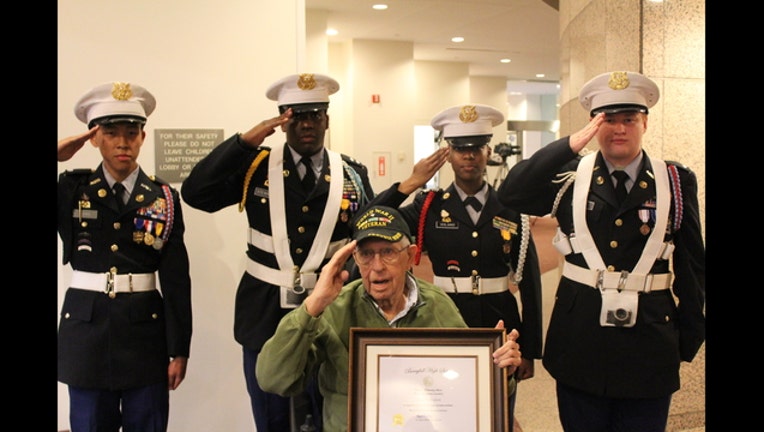 article
CHARLOTTE, NC (FOX 46 WJZY) - A World War II veteran who was drafted into the Army before he could finish high school received an honorary diploma from the Charlotte-Mecklenburg Board of Education on Thursday. Ralph Lee England, 92, received a framed diploma for academic achievement and service rendered.
"Mr. England, you are now officially a high school graduate," said Eric Davis, Board member for District 5. "Congratulations, sir, and thank you for your service to our community and our country."
The Board of Education created the honorary diploma for England after his niece, Tammy Michael, contacted the district to ask if something could be done for England. "He is a proud veteran and he talks about not getting his diploma often," she wrote in an email. "He thinks he isn't as smart as others because of not having his…diploma."
England, who will turn 93 Dec. 1, was drafted when he was 18 and a student at Berryhill High School in Charlotte. His memory of leaving the U.S. on a cargo ship to go overseas is undimmed by time. "Every soldier was crying, including me," he said in an interview with CMS TV. "We hated to see America go out of sight – we didn't know if we'd see it again."
He also retains a strong sense of teamwork from his military service. In explaining why he wanted his diploma more than seven decades after leaving high school, he said that anything that improves life is a good thing.
"I want to be one of the best," he said. "I'm not going to be the best, but one of the best."
Davis, who is a West Point graduate, said that England and the others who served in World War II were remarkable. "His generation has been called 'The Greatest Generation' for its bravery in war and its service at home," Davis said. "Your service is a shining example of the values we celebrate on Veterans Day and we are honored and humbled to be able to recognize you tonight."