CPS sues state over funding, says it violates students' rights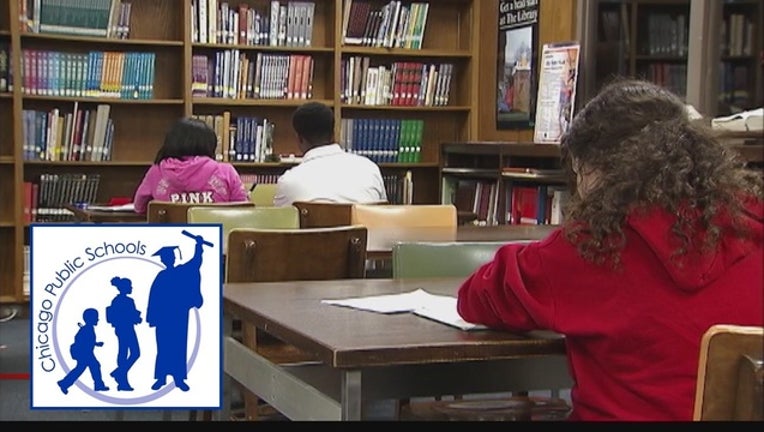 article
CHICAGO (SUN TIMES MEDIA WIRE) - Chicago Public Schools has sued the governor and the Illinois State Board of Education, alleging that the way the state funds schools violates the civil rights of the minority children who make up nine out of 10 city students, the Chicago Sun-Times is reporting.
Citing the landmark education civil rights case Brown v. Board of Education, CPS railed against the state of Illinois for maintaining what it calls "two separate and demonstrably unequal systems for funding public education in the State: one for the City of Chicago, whose public school children are 90% children of color, and the other for the rest of the State, whose public school children are predominantly white."
The lawsuit, filed Tuesday morning in Cook County Circuit Court along with five African-American and Hispanic families with children in CPS schools, asks a judge to declare the state's funding formula and teacher pension disparities unlawful, and prevent state officials from doling out money in a discriminatory fashion. It also seeks attorneys' fees.
CPS CEO Forrest Claypool and plaintiffs are expected to address reporters Tuesday afternoon at Lindblom Math and Science Academy High School in Englewood.
Claypool said in a press release that "Chicago students, who are overwhelmingly students of color, are learning in a separate but unequal system. The message from the State is that their educations matter less than children in the rest of Illinois, and that is both morally and legally indefensible."
CPS' general counsel Ronald Marmer and his deputy filed the suit, along with attorneys from the law from firm Jenner & Block, which used to employ Claypool and Marmer and still pays Marmer severance. Those ties are a focus of an ongoing investigation by the schools' inspector general, as the Sun-Times has reported.
Claypool, who has ratcheted up his rhetoric against Rauner in recent weeks, has long threatened to bring legal action against the state, hiring Jenner & Block about a year ago to prepare a lawsuit. Claypool said he preferred a legislative solution, and one appeared to arrive in June with $215 million for CPS pensions that came with strings: the state had to pass "pension reform." In December, Rauner said those conditions hadn't been met and vetoed the bill containing the money.
State leaders have been working on a "grand bargain" solution for the state's budget, and the plan that the Senate continues to discuss contains the $215 million for CPS pensions. A separate bill to allocate any new money for school districts first to those that serve mostly poor children has been introduced in the House — that's the product of Rauner's appointed bipartisan education funding commission which recommended ways to close funding gaps between wealthy and poor districts.
Rauner is scheduled to deliver his annual state budget address on Wednesday.
Meanwhile, Chicago's schools system has slashed about $104 million with furlough days, spending freezes and other cuts, and expects to pass another version of its $5.4 billion operating budget later this month that likely still will be short $111 million.
"The situation is dire," the lawsuit read. "If the State simply provided CPS with the same level of funding per student that the State provides to the rest of Illinois, CPS would receive nearly $500 million in additional State funding for Fiscal Year 2017. If Illinois provided CPS with the same level of education funding that the State provides to school districts across the rest of the State, CPS's schoolchildren would not suffer the devastating impact of budget cuts."
It's not clear why Claypool and Mayor Rahm Emanuel are now green-lighting the lawsuit, which also names the State of Illinois, the state's superintendent and its school board president, and newly installed state comptroller Susana Mendoza.
School board president Frank Clark said in a statement that "Since action has not been taken to end the separate and unequal education system in this State, Chicago is taking matters to the courts."
A similar lawsuit, filed by the Chicago Urban League in 2008 against ISBE alleging civil rights violations of minority CPS students, still is pending in Cook County Court.
CPS paid Jenner & Block more than $182,000 under a deal approved by the Board of Education last summer, months after the firm began drafting the lawsuit.
Jenner & Block has been paying Marmer $200,000 a year under a $1 million severance package since he left the firm in 2014.
Prompted by Sun-Times reports on Marmer's ties to the firm, the CPS inspector general's office opened an ongoing investigation to determine whether he had violated the district's ethics policy.
Under CPS' code of ethics, no school official can have any "contract management authority" over a board deal with a contractor "with whom the employee has a business relationship" — defined as any transaction worth at least $2,500 in a calendar year to the CPS employee.
Emails obtained by the Sun-Times show Marmer oversaw Jenner & Block's work for CPS.
Claypool has defended Marmer and said it was his decision to hire the firm, where he worked briefly in the 1980s.
"Jenner & Block is a top litigation firm. We wanted to make sure we had the strongest legal firepower given the existence of the school system was at stake," Claypool said in July when the Board approved paying the firm for work on the suit against the state.
Claypool has released a legal opinion from another outside law firm, which concluded that Marmer did nothing wrong. That opinion was written for CPS by J. Timothy Eaton of Taft Stettinius & Hollister LLP. Like Marmer, Eaton has contributed to Claypool's political campaigns. The district has declined to release communications between Marmer and its in-house ethics adviser, Andra Gomberg.
In December, inspector general Nicholas Schuler accused Claypool of stonewalling his investigation, making an unusually public complaint during the public participation segment of a school board meeting.
The firm has billed the district at $295 an hour rate, CPS' standard for outside counsel. But the Sun-Times has reported that an earlier, original version of the deal would have paid Jenner & Block its normal much higher rates if the lawsuit won increased funding from the state.
The Jenner & Block lawyer who's lead counsel for CPS in the case is Randall Mehrberg. State records show Mehrberg contributed a total of $30,500 to Claypool's election campaigns and $5,000 toward each Emanuel bid for mayor, in 2011 and 2015.
Mehrberg has spent most of his career at Jenner & Block but worked for the Chicago Park District for several years in the 1990s, including a period when Claypool was parks chief under then-Mayor Richard M. Daley. Right before rejoining Jenner & Block, he served a stint with Claypool at City Hall while Claypool was Emanuel's chief of staff.
Another Jenner & Block lawyer working on the case is Blake Sercye, political director for Emanuel's 2011 mayoral campaign.