Jail spots sheets hanging from cell, foiling escape attempt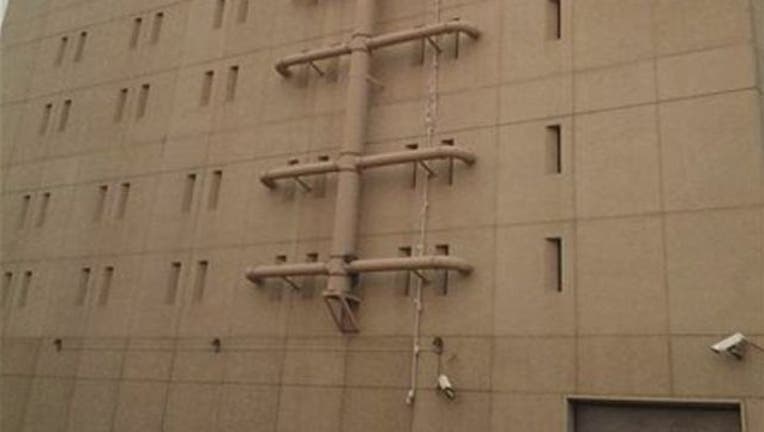 article
SPOKANE, Wash. (AP) — Staffers at a jail in eastern Washington state foiled an escape attempt by spotting a long trail of knotted bed sheets hanging from the window of a cell housing a suspect in a murder-for-hire plot.
They saw the rope of sheets that nearly reached the ground around 4:30 a.m. Thursday and put the Spokane County Jail on lockdown. The escape "was thwarted by the good work of the staff," FBI spokesman Frank Harrill told the Spokane newspaper The Spokesman-Review (http://bit.ly/1NKs1mB ).
The cell belongs to James Henrikson, a felon linked to fraud and terror in North Dakota. He was sent to Washington state to face federal charges of ordering the killings of a business associate that owed him nearly $2 million and his former trucking company employee.
After finding the dangling sheets, officials moved Henrikson and a cellmate to another part of the jail. The cell window is about 4 feet tall but less than 5 inches wide, according to Spokane County Jail Commander John McGrath.
In February, authorities investigated after another inmate reported that Henrikson planned to escape by having a team attack a U.S. Marshals Service van with guns, grenades and gasoline, according to court records.
Last September, Henrikson was indicted on murder-for-hire charges in the deaths of Doug Carlile and Kristopher "K.C." Clarke in Washington state. He was extradited to Washington from a North Dakota jail, where he was being held on illegal weapons charges.
The indictment came nine months after Carlile, 63, was shot in the kitchen of his house in an upscale Spokane neighborhood after returning from church, and 2½ years after Clarke, 30, was last seen at Henrikson's trucking company, Blackstone LLC. Clarke's body has never been found.
Henrikson, 36, formerly of Watford City, North Dakota, has told investigators that Carlile owed him nearly $1.9 million for their dealings in Kingdom Dynamics, an oil development firm.
The indictment also alleges that Henrikson conspired to kill three other people.
Ken Coburn, who was working out near the jail around 6 a.m. Thursday, said he was surprised to see the knotted-together bed sheets hanging from one of the jail's windows.
"That's the oldest trick in the book, next to putting a file in a cake," he said.