Ex-Cubs catcher Ross on 'Dancing with the Stars'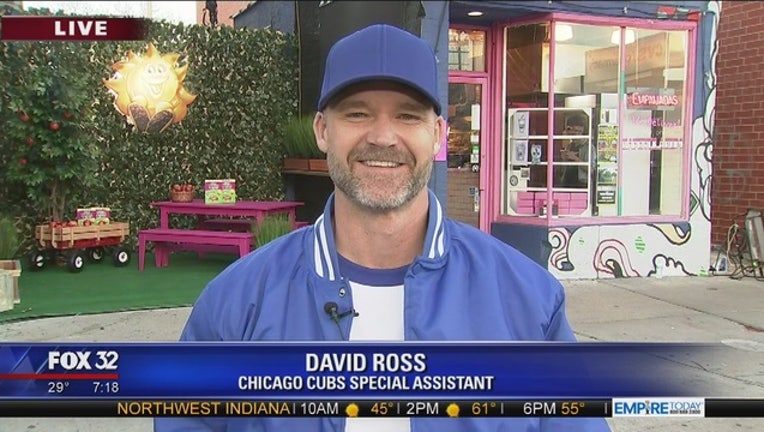 article
MESA, Ariz. (AP) - The Chicago Cubs think David Ross could be a real factor this season. He has excellent footwork, knows the swing and can handle a partner, all the elements needed to win a championship - on "Dancing with the Stars."
Popular with teammates and fans, Ross retired last fall after hitting a home run in Game 7 that helped the Cubs win the World Series. On Wednesday, the former catcher was part of the cast ABC unveiled for the 24th season of the reality competition.
Ross will be the first major leaguer to appear on the show, which has often been won by NFL, Olympic and race car champions. He got connected with "Dancing with the Stars" when a producer emailed his agent, Ryan Gleichowski.
At first, Ross said they thought it was some sort of prank.
"I still wasn't sure up until a few days ago that I really wanted to do it," he told The Associated Press in a phone interview, "because it's something that makes me extremely nervous and uncomfortable. But I've done some things outside my box this year and I've had such a phenomenal year."
"The love that I've received from my teammates and the fans of Chicago is just, all that put into one, I convinced myself to give it a try," Ross said.
NL Most Valuable Player Kris Bryant is rooting for "Grandpa Rossy" - that's the nickname the younger Cubs playfully gave him last year.
"I don't know if he's worked out all offseason," a grinning Bryant said. "He looks the same to me, though. Obviously, he was showing his age here towards the end of the year here. But hopefully there is enough Tylenol or whatever to get him going."
Ross played 15 years in the majors for seven teams, also winning the crown in 2013 with Boston. But he became a favorite figure in Chicago after signing with the Cubs in December 2014.
The 39-year-old Ross served as the personal catcher for star pitcher Jon Lester, and also helped mentor first baseman Anthony Rizzo, Bryant and the rest of Chicago's talented young core. The Cubs won 97 games in Ross' first year with the team, and then won the title last season for the first time since 1908.
In the aftermath of the dramatic World Series win against Cleveland, Ross went on "Saturday Night Live" with Rizzo and Dexter Fowler, where they played male strippers for one skit. He also joined Bryant for an appearance on Ellen DeGeneres' talk show. He quickly picked up two more jobs, as a special assistant with the Cubs and a baseball analyst for ESPN.
Ross also has a memoir coming out in May, but "Dancing with the Stars" likely will attract more attention than any of his other projects - especially in the Cubs' clubhouse.
"You do good things in life and usually, hopefully you get rewarded one day. He deserves all of it," Rizzo said. "He's a good person. He's a good father. He's a good husband."
Ross is eager to give it a twirl.
"To get this opportunity, to be a part of this as a role player in major league baseball, you know I want to represent the guys well, and MLB, and put a good foot in," he said. "That's the pressure part for me."
Ross' competition includes Olympic gymnast Simone Biles, who won four gold medals and a bronze in Rio de Janeiro last summer, and former figure skater Nancy Kerrigan. Laurie Hernandez, one of Biles' teammates on the powerhouse U.S. team for Rio, won the Mirrorball Trophy as last season's champ.
"We've got to get the whole Cubs family behind (Ross) and vote for him," Rizzo said. "I know they're very good at voting, but he's got some tough competition on there."
The Cubs had five players voted as All-Star starters last summer, and the team's Twitter feed quickly posted about Ross' spot on the show on Wednesday. It sounds as if some of the team's biggest stars also were planning to help.
"I've obviously watched shows like that where you have to vote, but I've never actually voted," Bryant said. "I think I might actually call in or send a text in to vote this time."
Shortstop Addison Russell said he is a fan of the show and he likes Ross' chances. He also offered some advice.
"Definitely if you're going to go with 'Dancing with the Stars,' don't show your cards all at once," Russell said. "Maybe go like a little swing dance maybe first few dances or hip-hop, and then get into that salsa stuff, the more complicated footwork, kind of work yourself in there."
___
Jay Cohen can be reached at http://www.twitter.com/jcohenap