Durbin says railway must do more on gun thefts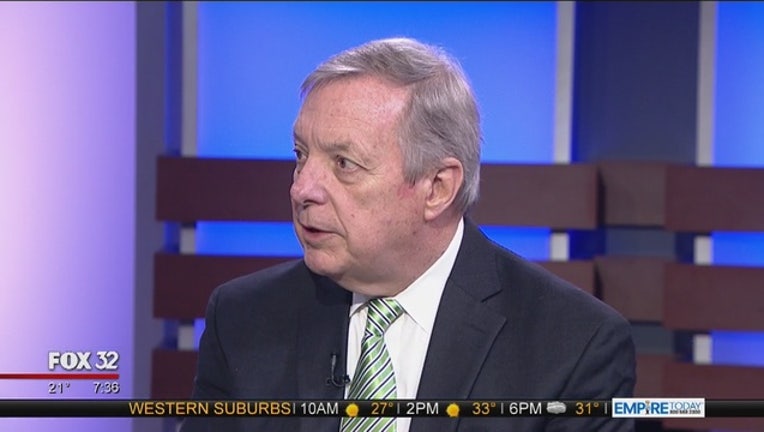 article
CHICAGO (AP) - U.S. Sen. Dick Durbin told Norfolk Southern this week that it must do more to secure a major rail yard on Chicago's South Side after three major gun thefts led to many of the weapons circulating in nearby violence-plagued neighborhoods, according to a letter the Illinois Democrat sent this week to the company's CEO.
The letter , provided to The Associated Press by Durbin's office Wednesday, cites the theft of some 150 guns between 2014 and 2016. Officials say most of the guns, including semi-automatic rifles, spread into nearby communities, helping to fuel the kind of violence that last year led to 762 homicides in Chicago, more than in New York City and Los Angeles combined.
"These repeated incidents of gun theft ... jeopardize the safety and well-being of Chicago residents," Durbin wrote in the March 14 letter to CEO James A. Squires.
The thefts haven't, until now, drawn much scrutiny from elected officials. There have been neither federal nor local hearings devoted to the rail-yard gun thefts, contributing to a perception in communities hugging the yard that no one is taking responsibility.
The most recent heist was in September, when thieves made off with more than 30 guns. In 2015, alleged street-gang members used box cutters to get into one train, carrying away 111 new guns en route from New Hampshire weapon maker Sturm, Ruger & Co. to Washington state. It was sheer luck, not an inside job, that they selected a boxcar with guns, officials said.
Durbin's letter also asks the Virginia-based company, which has annual operating revenues of around $10 billion, to send him information on any plans to beef up security, writing, "It is clear that more needs to be done by Norfolk Southern."
Asked about the letter, Norfolk Southern spokeswoman Susan Terpay said in an email Wednesday: "We don't have a comment at this time." She has said previously about the rail yard that the company is "doing everything within (its) power to prevent" the gun thefts, including by adding extra patrols and K-9 units.
After examining hundreds of court records, the AP reported earlier this month that just 16 of the 111 guns stolen in 2015 have ever been recovered and that most were found in the possession of purported street-gang members or drug dealers. One recovered Ruger was tied to a Jan. 22, 2016, shooting. Another was found in a dealer's home alongside 429 bags of heroin.
Suspected thieves have been arrested in the 2015 theft. No arrests were announced in the other two heists.
___
Follow Michael Tarm on Twitter at @mtarm