Illinois Senate leader touts bill to protect immigrants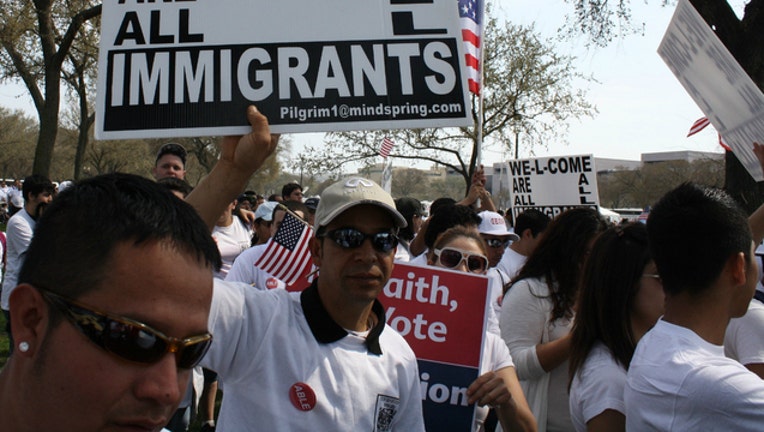 article
SPRINGFIELD, Ill. (AP) - Illinois Senate Democrats, contending that immigrants are hiding in their homes because of aggressive actions by President Donald Trump's administration, promoted legislation Monday that would bar law enforcement from entering state-supported schools or health facilities without a warrant looking for immigrants in the country illegally.
Senate President John Cullerton's said his "TRUST" act is a response to growing anxiety in immigrant communities because of federal raids and anti-immigrant rhetoric from the new Republican president. A U.S. Immigration and Customs Enforcement raid on Chicago's northwest side last week led to the shooting of a man by an agent.
"We're drawing a bright line" between do's and don'ts for police," Cullerton told a Chicago news conference hosted by the Illinois Coalition for Immigrant and Refugee Rights.
A crackdown on illegal immigration has been a cornerstone of Donald Trump's presidency. He has pursued a promised wall on the U.S-Mexican border, threatened to withhold funds from so-called "sanctuary" cities, and immigrant advocates have questioned whether ICE has carried out more raids in cities. It all spells anxiety for immigrant communities, said state Sen. Iris Martinez, who noted the sudden abandonment of commercial districts in neighborhoods such as Rogers Park and Albany Park.
"The last three or four weeks, those areas are very isolated and that is because people are not coming out to shop," the Chicago Democrat said. "And that is because of the fear; they've seen ICE walking around."
California adopted the nation's first "TRUST" act in 2014. Andy Kang, director of Asian Americans Advancing Justice and a primary author of the Illinois adaptation said Oregon, Rhode Island, Connecticut and Vermont have similar laws. New York and Maryland are considering versions.
The measure has four main tenets. First, it creates "safe zones," barring law enforcement authorities from entering state-supported school or health facilities without a warrant. In addition, no local officers can be deputized as federal officers for an investigation without a warrant.
Cullerton stressed that the measure would not keep police from investigating crimes or apprehending suspects.
"But the prevailing criteria to detain an individual should not be based on someone's citizenship, immigration status, background or beliefs, but by the blind exercise of the rule of law," Cullerton said.
The plan would also set deadlines for police to complete paperwork for immigrant crime victims who cooperate in an investigation. Those who cooperate are eligible for special visas that allow temporary residence, but police are often slow or negligent in completing them.
And expanding on the sanctuary city idea - places such as Chicago, Evanston, and Urbana where immigrants in the country illegally are largely left alone - Cullerton's legislation would ban local participation in any sort of registry based on religion, race or immigrant status. Currently, there is no such registry, and Sheldon Nahmod, a constitutional scholar at Chicago-Kent School of Law, said no president would have an easy go in such a registration law being declared constitutional.
The U.S. Supreme Court has found that Washington can't withhold funding as a punitive measure, said Kang. He said it's unlikely a local police department could find itself losing federal dollars for skirting cooperation with the feds.
The legislation will have a hearing Wednesday in the Senate Executive Committee. House Democrats have introduced some similar measures to limit local police cooperation and bar immigration authorities from schools, churches or hospitals without warrants. Republicans have raised objections.
Republican Gov. Bruce Rauner's spokeswoman Eleni Demertzis would not comment on whether the governor supports Cullerton's initiative, but said, "Illinois is a welcoming and diverse state and the governor believes in comprehensive immigration reform."