Landmark racketeering case wrapping up for Black Souls gang members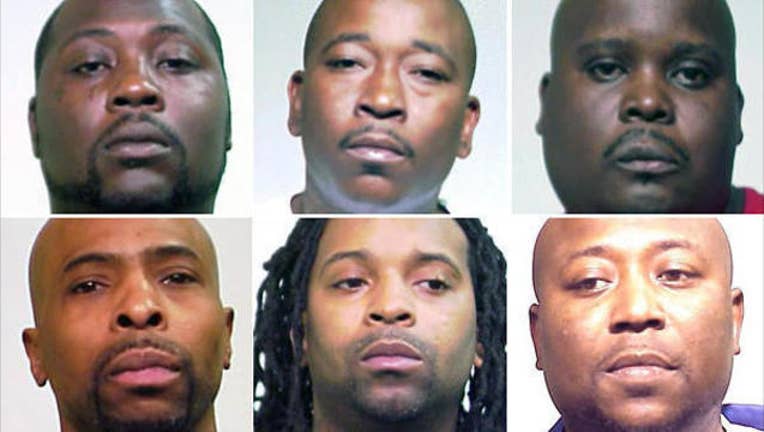 article
SUN-TIMES MEDIA WIRE - Closing arguments are scheduled to begin Monday in the racketeering case against six alleged leaders of the Black Souls street gang, more than two months after the landmark case began.
During nine weeks of testimony, jurors have heard grisly tales of the Near West Side gang dating back to the 1990s, including details of multiple murders carried out by — and against — Black Souls members, the Chicago Sun-Times is reporting.
Cornel "Corn" Dawson and five men alleged to be his top lieutenants in the gang are the lone defendants to stand trial among 23 Black Souls and associates indicted in 2013, in one of the first uses of new state racketeering laws.
Authorities launched an investigation into the gang in 2012, after police informant Claude Snulligan was shot dead outside a cellphone store near a Black Souls hangout.
Snulligan, a resident of the East Garfield Park neighborhood that comprised the Black Souls territory, had begun working with police after he was beaten by gang members because he had complained about drug sales taking place outside his house.
Black Souls leaders offered Snulligan $3,000 to drop the charges against the members who had beaten him, prosecutors said. Snulligan was gunned down in October 2012, and police launched a probe that took its name from the size of the shell casings left behind at the murder scene: Operation .40 Caliber.
Defense lawyers have assailed the case against the six alleged gang leaders, which was built largely on the testimony of lower-ranking Black Souls who cut deals with prosecutors to substantially reduce their sentences.
Alex Williams, a member of a rival gang who befriended Dawson while the two were cellmates at the Cook County Jail, was a star witness for the prosecution, but defense lawyers attacked his character, pointing out that Williams had added onto his lengthy criminal record even after he was placed in witness protection.
Williams, who earned more than $100,000 over the years as an informant for Chicago Police and the FBI, was caught dealing drugs several times while on the government payroll, most recently in his new downstate hometown in September, while jurors were being selected for the trial.
One Black Soul testified that gang leaders used violence to enforce rules, claiming that gang member Charles Watson received a fatal beating in 2002 after he was caught stealing cash from drug sales. Watson was buried in a shallow grave near the abandoned house where the beatdown took place.
The gunman behind another killing carried out on Dawson's orders — the 2003 murder of Earnest Keyes — testified that he had been the triggerman in three shootings during 18 months as a member of the gang, a span that began when he was just 15 years old.
That gang member, who was sentenced to 30 years in prison for Keyes' murder, recited a Black Souls oath from memory for jurors.
With prosecutors allotted more than two hours to summarize their case, and defense lawyers each granted an hour and 30 minutes each to reply, closing statements are expect to span two days starting Monday.