Motive remains mystery in Las Vegas attack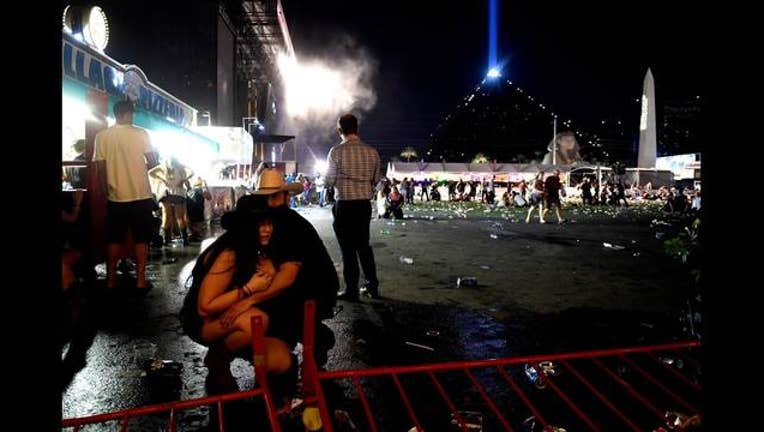 article
LAS VEGAS (AP) - The motive behind the deadliest mass shooting in modern U.S. history remained a mystery as police sought to learn more about the apparent "lone wolf" gunman who opened fire on tens of thousands of concertgoers from the 32nd floor of a Las Vegas hotel.
At least 59 people were killed and more than 500 others injured in the shooting, which happened during a Sunday night performance by country music star Jason Aldean at the Route 91 Harvest Festival. The gunman hammered out a window at the Mandalay Bay Hotel and Casino and began firing with a cache of weapons.
Survivors have shared harrowing tales of gunfire raining down on the crowd.
THE INVESTIGATION
Authorities are discounting the possibility that international terror organizations were involved in the shooting , despite a claim of responsibility by the Islamic State group.
The suspected gunman, Stephen Craig Paddock, a 64-year-old retiree from Mesquite, Nevada, wasn't on law enforcement's radar. They think he acted alone but want to talk with his 62-year-old girlfriend.
"I can't get into the mind of a psychopath at this point," Sheriff Joseph Lombardo said.
Paddock had 23 guns in his hotel room, including rifles with scopes, Lombardo said. Two were modified to make them fully automatic, according to two U.S. officials.
THE VICTIMS
At least 527 people were injured in the attack, along with the 59 confirmed dead.
Among the confirmed fatalities was Sonny Melton, a registered nurse. His wife, Dr. Heather Melton, an orthopedic surgeon who was with him when shots were fired, survived.
Heather Melton told WZTV in Nashville that her husband "saved my life and lost his." She says her husband was the most kind-hearted, loving man she ever met.
Others slain include commercial fisherman from Alaska, a high school secretary from New Mexico, a records technician with a California police department and a mechanics' apprentice from British Columbia.
THE GUNMAN
Paddock's brother, Eric Paddock, who lives in Florida, says his multimillionaire brother was a big spender at casinos and often received free meals and rooms there.
Eric Paddock also described his brother as different than other people: "He was a guy who had money. He went on cruises and gambled."
Stephen Craig Paddock was living in Mesquite, Nevada, and authorities say he previously lived in the Dallas suburb of Mesquite, Texas, from 2004 to 2012, and possibly longer. His father, Benjamin Hoskins Paddock, was a notorious bank robber who wound up on the FBI's most wanted list after escaping from prison in 1968.
HEROIC ACTIONS
Amid the terror in Las Vegas, there were acts of compassion and countless heroics that officials say saved scores of lives.
Rob Ledbetter's battlefield instincts kicked in quickly as bullets rained overhead.
The 42-year-old U.S. Army veteran who served as a sniper in Iraq immediately began tending to the wounded, one of several heroes to emerge.
There was also a man one survivor knows only as Zach who herded people to a safe place.
LATE-NIGHT HOST RESPONSE
Late-night comics decried the Las Vegas mass shooting as a confounding and repetitive American tragedy, with Jimmy Kimmel and Trevor Noah lashing out at politicians who oppose gun control.
"I don't know why our so-called leaders continue to allow this to happen," Kimmel said on his ABC show Monday.
On Comedy Central, the South African-born Noah said he was dismayed by how many mass shootings he's seen in just two years in America and mocked current GOP legislation aimed at loosening gun rules.
Stephen Colbert, who regularly targets President Donald Trump, challenged the president to go his own way on gun control without heeding his political party's stance.
PRAYER VIGILS
Religious leaders, elected officials and mourners have gathered at multiple prayer vigils in Las Vegas.
Las Vegas Mayor Carolyn Goodman spoke to mourners in the setting sun Monday evening outside the downtown City Hall.
Several faith leaders led the group in prayer. The crowd later joined in song and held candles.
Several miles away at a cathedral off the Las Vegas Strip, mourners and casino workers gathered to honor the victims and first responders.
The vigils were among a number of memorials being held around the city.