Rep. Al Green introduces articles of impeachment against Trump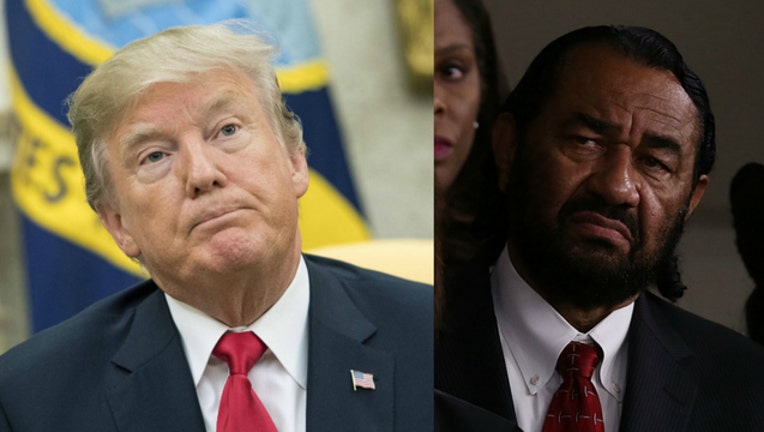 article
FOX NEWS - Liberal Democratic Rep. Al Green on Wednesday followed through on threats to file articles of impeachment against President Trump, introducing the resolution in the House while delivering an anti-Trump tirade on the floor.
The Texas congressman's maneuver was short-lived. While Green could have forced a vote as early as Wednesday, he opted not to take further action and the articles effectively expired.
However, Green could reintroduce the measure at any time, and a spokesman for the lawmaker told Fox News he may do so.
"Today, I rise to use the constitutionally prescribed political process of impeachment to speak truth to the most powerful man on earth, the president of the United States of America," Green said in a speech on the House floor.
Accusing Trump of betraying "his trust as president" by embracing racism, Green referenced Adolf Hitler and made the point that Trump can still be removed from office even if he didn't commit a crime.
"The public has been led to believe that a president must commit a crime to be impeached, which is not true," Green said. "If any president persisted with the lie that 'Hitler was right,' he would be, and should be, impeached not for a crime, but for betraying his trust as president."
Green's resolution covered four articles of impeachment.
One accused the president of "inciting white supremacy, sexism, bigotry, hatred, xenophobia, race-baiting, and racism by demeaning, defaming, disrespecting and disparaging women and certain minorities." Another alleged Trump brought "shame and dishonor to the office of the presidency by associating the majesty and dignity of the presidency with causes rooted in white supremacy, bigotry, racism, anti-Semitism, white nationalism and neo-Nazism."
Another still condemned Trump for saying "three to five million people voted illegally in the 2016 presidential election."
The fourth article accused the president of "encouraging law enforcement officials to violate the Constitutional rights of the suspects in their case."
White House Press Secretary Sarah Sanders called the effort "pathetic" in a tweet Wednesday.
Green initially said he planned to file the resolution last week, but he postponed it after the mass shooting in Las Vegas.
"Impeachment is postponed," Green said last week. "Let us mourn. Let us heal."
Green's push is not supported by many senior Democrats, even as they rail against the president.
New York Rep. Jerrold Nadler, a Democrat on the House Judiciary Committee, told The Hill in response to Green's threat: "We're not there yet," despite Trump having done "really terrible things."
If Green brings back the measure, it's likely that lawmakers in the GOP-controlled House would vote to set aside his resolution. This could still put some Democrats in a bad spot, as they would likely face pressure from outside liberal groups to vote against tabling the articles.
The House Judiciary Committee did not consider Green's articles for floor debate, as it did when then-President Bill Clinton was impeached in in 1998.