Trump should be 'sentenced to death' for insulting Kim Jong Un, North Korea says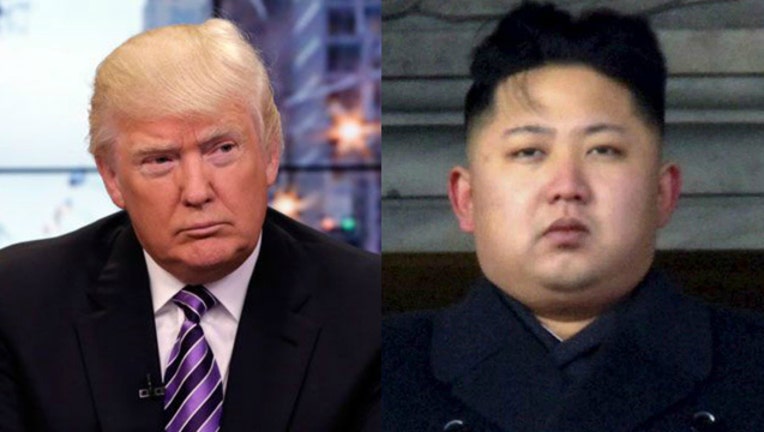 FOX NEWS - President Trump should be "sentenced to death" for calling North Korean dictator Kim Jong Un "short and fat," the regime's state media declared Wednesday in an unhinged diatribe blasting Trump as an "old lunatic, mean trickster and human reject."
The editorial published in Rodong Sinmun, the state's ruling party newspaper, called Trump a "hideous criminal" for attempting to unite world leaders against Kim Jong Un and for later insulting the despot in a message he tweeted during Trump's five-country Asia tour, according to a translation published by the state's Korean Central News Agency. 
"The worst crime for which [Trump] can never be pardoned is that he dared [to] malignantly hurt the dignity of the supreme leadership," the editorial stated. "Trump, who is no more than an old slave of money, dared point an accusing finger at the sun."
It added: "[Trump] should know that he is just a hideous criminal sentenced to death by the Korean people."
The newspaper also called Trump a coward for canceling his surprise visit to the Demilitarized Zone. The president hatched a secret plan to visit the DMZ last Wednesday during his stop in Seoul, but bad weather forced the plans to be scuttled, White House Press Secretary Sarah Sanders said. Officials had initially said Trump wouldn't visit the border between North and South Korea.
"It wasn't the weather. He was just too scared to face the glaring eyes of our troops," the editorial stated.
Trump ratcheted up the rhetoric Saturday by tweeting: "Why would Kim Jong Un insult me by calling me 'old,' when I would NEVER call him 'short and fat'?"
The tweet followed a well-received speech to an audience of South Korean lawmakers last Wednesday. Trump warned Kim Jong Un to not underestimate the U.S., at one point directly addressing the North Korean leader: "The weapons you are acquiring are not making you safer. They are putting your regime in grave danger."
"We will not allow American cities to be threatened with destruction. We will not be intimidated," he added. "The world cannot tolerate the menace of a rogue regime that threatens it with nuclear devastation."
Trump cautioned during his stinging address: "Do not underestimate us. And do not try us."
The Rodong Sinmun editorial blasted Trump for "spouting all sorts of rubbish" in his speech in Seoul that "[painted] a black picture of the happy life of the great Korean people."
"Rabid dog's barking can never frighten the Korean people," the editorial stated. "It is the principle and way of [North Korea] to toughly react to any acts of hostility."
Kim resumed public outings on Tuesday, appearing in propaganda photos with a massive grin while giving "field guidance" at Kumsong Tractor Factory. He boasted the factory mainly created locally produced parts, attempting to show the regime wasn't crumbling under crippling United Nations sanctions.
On Monday, a North Korean soldier made a daring dash to freedom when he bolted across the Joint Security Area to defect to the South. The soldier was "stabilized" after a second surgery on Wednesday, but the regime's state media has not addressed the incident.