Which states are the most chaotic for Black Friday shoppers?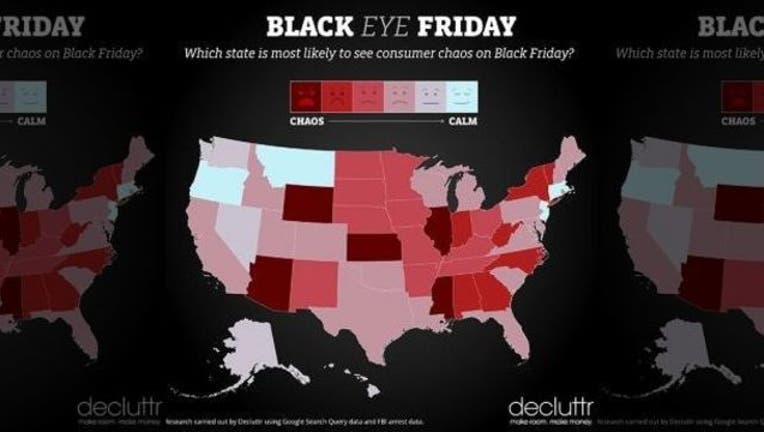 article
(Fox News) - Looking to avoid a slap-fight during your Black Friday shopping trip? Depending on what state you're in, that might be easier said than done.
As hordes of American shoppers bundle up and hunker down in front of their local retailers on Nov. 24 (or even Nov. 23), some of them will need to be more ready for combat than others, a new study suggests.
Combining Google search data with FBI arrest records for crimes such as property damage and disorderly conduct, online re-sale site Decluttr has released a "Black Eye Friday" map detailing the states most and least likely to see consumer chaos during the post-Thanksgiving retail extravaganza.
Adjusting the data to account for each state's population size, Declutter predicts that shoppers in Wyoming, Illinois, Arizona, Mississippi and Kansas are the most likely to run into trouble during their Black Friday browsing, while shopping in Montana, Connecticut, New Jersey, Masschusetts and Oregon will supposedly be more mellow.
So whether you plan to scour for bargains from the comfort of your couch or amid the frenzy of a superstore, stay safe and keep an eye on your fellow shoppers.
More on FoxNews.com.