Cubs' Bryant, Rizzo return for new 'Bryzzo' ad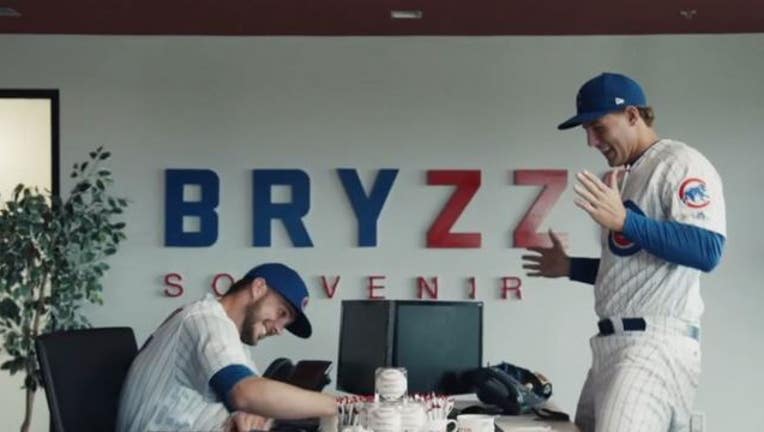 article
CHICAGO (FOX 32 News) - Business is a-boomin' for the Bryzzo Souvenir Company.
Kris Bryant and Anthony Rizzo, the faces of America's favorite home run souvenir company, have returned for the latest installment of Major League Baseball's successful ad campaign that premiered last season.
"Let's just say it's been a big year for the Bryzzo Souvenir Company," Bryant says. "Lots of homeruns and what do you know, demand's off the charts," Rizzo adds.
In the latest ad, the Bryzzo Souvenir Company is going through an expansion and adding some familiar faces to the staff including Addison Russell, Javier Baez, Kyle Schwarber, and World Series MVP Ben Zobrist.
They also hire Pearl Jam frontman and Cubs megafan Eddie Vedder to write a catchy jingle for the company.
"Long-gone homerun, this one's gonna go. Kiss it goodbye, that ball was Bryzzo'd!," Vedder sings.
Not to be forgotten, former Cubs catcher David Ross cuts his teeth as the new Bryzzo Souvenir Company intern, packing boxes of homerun balls for customers.
MLB's Bryzzo Souvenir Company ad campaign may still have some legs according MLB.com and Cubs.com beat writer Carrie Muskat.
"Just a heads up re: the Bryzzo campaign, there is more to come. Stay tuned," Muskat tweeted.