Maddon 'couldn't disagree more' with overturned call at home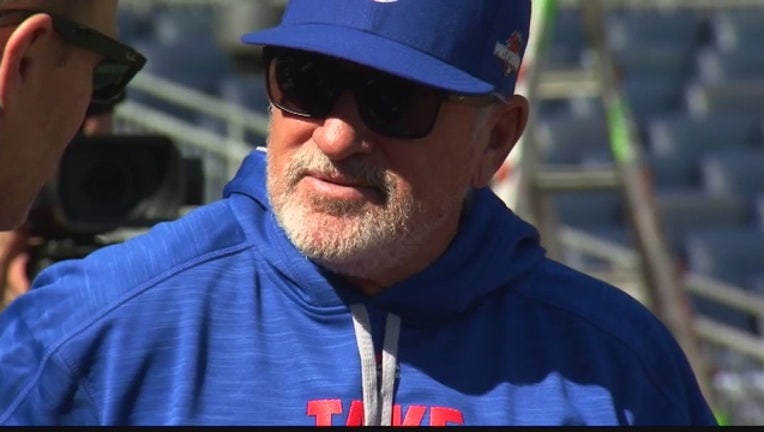 article
LOS ANGELES (AP) - Joe Maddon was ejected by the umpires Saturday night, but his real beef is with Major League Baseball's rules.
Maddon was tossed for arguing an overturned call at home plate in the Chicago Cubs' 5-2 loss to the Los Angeles Dodgers during the NL Championship Series opener, then let loose on baseball's rule governing potential collisions with catchers.
In the seventh inning, the Dodgers' Charlie Culberson was originally called out at home after a single by Justin Turner. After a video review that took 2 minutes, 45 seconds, Culberson was ruled safe because of the way catcher Willson Contreras blocked the plate.
Contreras extended his left leg as he caught the ball, preventing Culberson from touching home as he slid past. MLB instituted a rule prior to the 2014 season banning catchers from blocking home plate until they have possession of the ball.
After the replay, Maddon stormed out of the dugout and began to argue, first with plate umpire Lance Barksdale and then crew chief Mike Winters.
Winters let him make a brief case before tossing him.
Maddon said he got ejected to make a point.
"I'm not arguing against the umpires. I thought the umpires did a great job," Maddon said. "I thought the game was well-officiated. I thought whoever had to make that decision, you put them in a bad decision in a replay booth in New York City."
Maddon called it "a great baseball play" and said he thought the throw from left fielder Kyle Schwarber took Contreras toward the baseline.
"He catches the ball and his technique was absolutely 100 percent perfect," Maddon said.
Maddon reiterated that he "could not disagree more with the interpretation" of the rule.
"The umpires did everything according to what they've been told, but I, from Day One, have totally disagreed with the context of that rule. I think it's wrong. I think anybody that's played major league or even minor league baseball will agree with me 100 percent on that," he said.
The defending World Series champions had their manager's back.
"I made a basic play," Contreras said. "The ball drove me to that position. I can't do more. I did what I needed to do."
John Lackey, who pitched 1 2/3 innings in relief, agreed.
"It's sad the direction our game has gone. That's a textbook play by the kid and he got penalized for it," Lackey said.
Maddon said the home plate collision rule "gets interpreted kind of like tantamount to the soda tax in Chicago, for me."
Cook County repealed its unpopular tax on sugary drinks this week.
Asked to explain, Maddon said: "Suddenly we're taxing soda back there. My point is, all rules that are created, or laws, aren't necessarily good ones. That's my point."