Anthem protests fuel calls to boycott NFL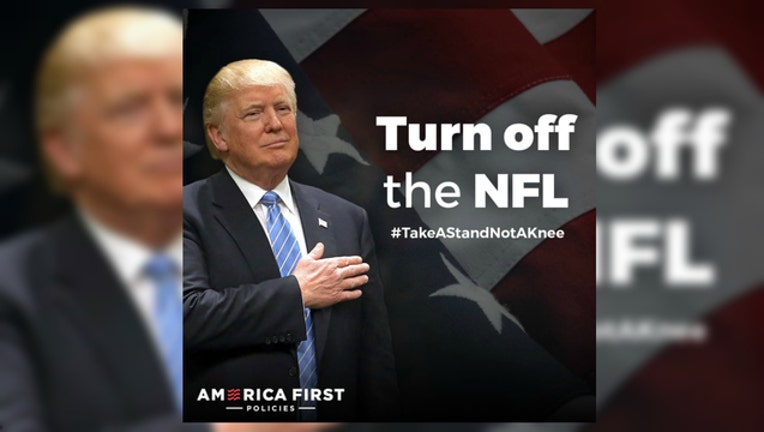 article
WASHINGTON, D.C. (Fox 32 News) - President Trump's war on some NFL players escalated on Sunday with new calls for fans to boycott the league.
Trump himself tweeted that fans should "refuse to go to games until players stop disrespecting our Flag & Country. You will see change take place fast. Fire or suspend!"
Trump's calls for "son of a bitch" NFL players to stand for the national anthem or be fired led to 130 players kneeling or otherwise protesting during Sunday's busy game day. NFL owners and leaders shared messages supporting their players.
But on the other side of the cultural divide, "Students for Trump" called for a boycott of NFL advertisers "who support players that disrespect our flag, our country & those who protect us." On their list of advertisers to target was Anheuser-Busch, Bose, Campbell's Soup, FeEx, Marriott, Papa John's, Pepsi, and Verizon.
BuzzFeed Politics reported that a Trump-aligned group called America First Policies is paying to spread the message "Take a Stand, Not a Knee - Turn off the NFL" on social media.