Antisemitic hate speech flyers found in Highland Park on Yom HaShoah
HIGHLAND PARK, Ill. - A group of residents in Highland Park woke up Thursday morning to find antisemitic propaganda in the form of leaflets on their front driveways. They were distributed on Yom HaShoah — Holocaust Remembrance Day.
It's not known how many homes were targeted, but Highland Park Mayor Nancy Rotering said her office got several calls and messages early Thursday morning from people who found them.
DOWNLOAD THE FOX 32 CHICAGO APP FOR BREAKING NEWS ALERTS
The Anti-Defamation League wants the situation investigated as a hate crime.
"Frankly, it's disgusting, and it needs to stop," Rotering said.  "To have this kind of garbage, disgusting statements thrown on peoples' driveways--on today of all days--is particularly painful."
"It does speak volumes, whether it's intentional or not...it's hard to believe that it's not [intentional]," said Goldenberg, on the timing of the leafleting.
The Anti-Defamation League is well familiar with the group advertising itself on the fliers — a group known for similar stunts, and for operating an online video platform that streams antisemitic content.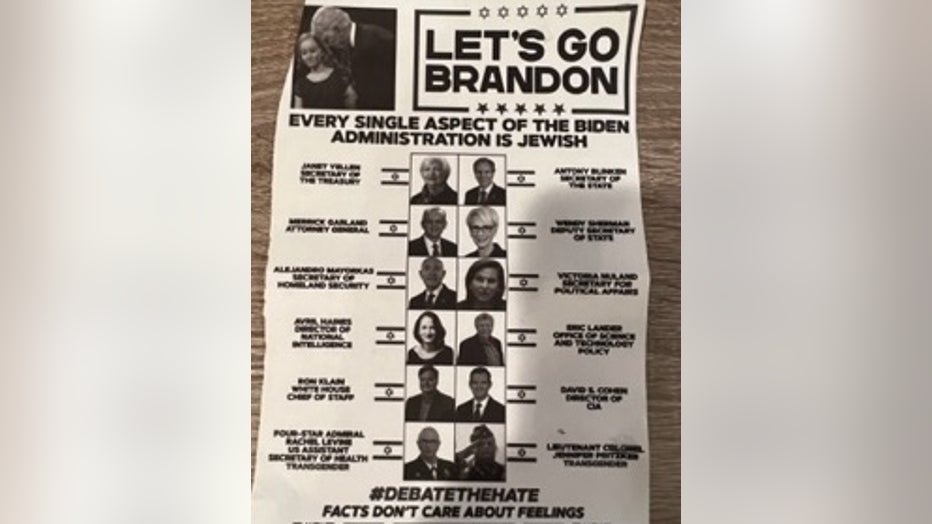 "In this case, you're targeting a specific community, driving home a particular trope. That's why in this particular case it's antisemitic, and it's hate," said Goldenberg.
Goldenberg said leafleting a neighborhood in the middle of the night is a low-cost, low-risk way to spread hate, most likely committed by one or two individuals. 
"Unfortunately this is becoming an all-too-regular occurrence," he said.
Rotering said if you saw anything overnight--or perhaps have a doorbell cam that might've captured the vehicle involved to contact Highland Park Police, who is now working with the FBI on this investigation.