Love is in the air for Brookfield Zoo's polar bears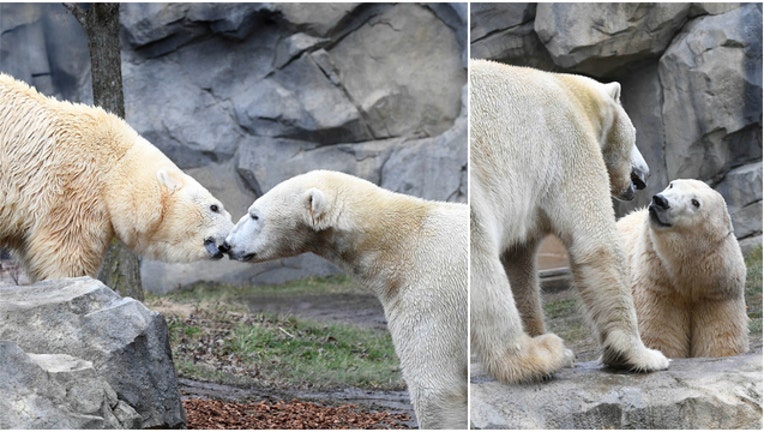 article
SUN-TIMES MEDIA WIRE - Love is in the air for Nan, a 21-year-old polar bear who recently arrived at the Brookfield Zoo, and Hudson, the zoo's veteran 11-year-old polar bear, who were introduced to one another this week.
Though it was the Association of Zoos and Aquariums' Polar Bear Species Survival Plan that brought them together and not Match.com, things seem to be going well between Nan and Hudson, the zoo announced Thursday.
Nan, who arrived at Brookfield Zoo in early February from the Toledo Zoo, has been getting acclimated to her new habitat while getting to know Hudson through a mesh barrier behind the scenes at the Great Bear Wilderness.
"When the bears were given access to one another in the same habitat, it was obvious that Nan is the one in charge, which is what we want to see," the zoo's curator of mammals Amy Roberts said in the release.
"The female is the one who guides the relationship. Hudson has been doing everything right so far in letting Nan take the lead while allowing her to become more familiar with him," Roberts said.
Zoogoers might see the two bears engaged in open-mouth displays, roaring, or even chuffing (rapid jaw movement) as they get to know each other, according to the release.
The bears will spend the next few months together, then in the early fall, they will be separated, according to the zoo. Nan will be given access to a maternity den behind the scenes, that was specifically designed in the shape and dimensions of actual dens in the wild, in case she may be pregnant. If she does give birth, the area has cameras to allow staff to observe the family without disturbing them.
Polar bears are listed as a vulnerable species and conservation actions are considered necessary for their survival, according to the International Union for the Conservation of Nature.