North Korea earthquake leads to conflicting reports about size, origin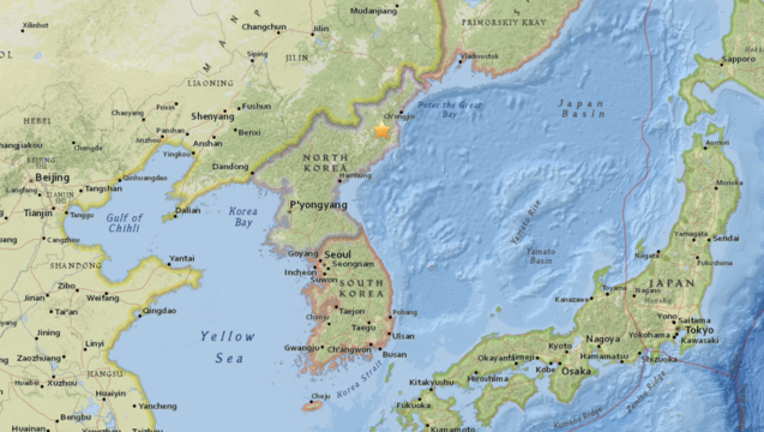 (FoxNews.com) - South Korea's weather agency said a magnitude 3.0 earthquake rocked North Korea on Saturday and that it appeared to be a natural occurrence. However, reports about the temblor contained conflicting information about its scale and nature.
An official from Seoul's Korea Meteorological Administration said Saturday's quake was detected in an area around Kilju, in northeastern North Korea. She said the analysis of seismic waves and the lack of sound waves clearly showed that the quake wasn't caused by an artificial explosion. She spoke on condition of anonymity, citing office rules.
Meanwhile, a Chinese monitoring agency said the quake was actually a magnitude 3.4 and that it was like caused by an explosion, Japan's Kyoto News reported.
The site of the quake is near where North Korea on Sept. 3 conducted its sixth and most powerful nuclear test in what it said was the detonation of a thermonuclear weapon.
Kyoto News said the temblor was detected at 4:29 p.m. local time at a depth of "0 kilometer," a strong indication of a manmade event, according to the China Earthquake Network Center.
North Korea has been maintaining a torrid pace in nuclear and weapons tests as it accelerates its pursuit of nuclear weapons that could viably target the United States and its allies in Asia.
North Korea said its recent nuclear test was a detonation of a thermonuclear weapon built for its developmental intercontinental ballistic missiles. In two July flight tests, those missiles showed potential capability to reach deep into the U.S. mainland when perfected.
Today's quake measures 3.4 significantly smaller than all of North Korea's six nuclear tests.
-- October 2006: 4.3
-- May 2009 : 4.7
-- February 2013: 5.1
-- January 2016: 5.1
-- September 2016: 5.3
-- Sept 2017: 6.3 (estimates vary)
More on FoxNews.com.
Fox News' Lucas Tomlinson and the Associated Press contributed to this story.