Rescue crews free deer stuck in pond for nearly a day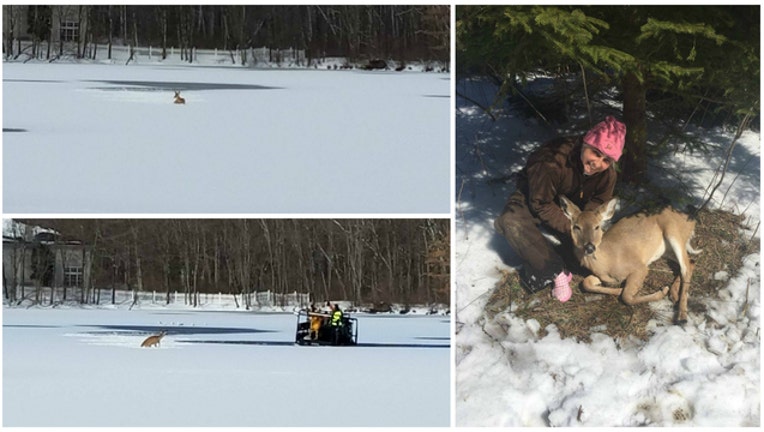 article
ROXBURY, N.J. (AP) - Crews have rescued a deer that was stuck in a frozen pond in New Jersey for nearly a day.
The deer was pulled from the water in Roxbury shortly after 10 a.m. Sunday. But the animal initially struggled to walk on its own and it wasn't immediately known if it had suffered any injuries.
The rescue came shortly after an amphibious land boat that crews were using to get near the deer started taking on water, forcing the rescuers into the pond's cold waters. But officials say none of them were injured.
The deer had gotten stuck about 60 yards off shore on Saturday morning. Crews then worked for most of the day to free the animal, but eventually had to suspend their efforts around dusk.
At least one critic posted on Facebook that the rescuers should use a helicopter to pull the deer out. And some residents were apparently threatening to go out and get the deer themselves, leading Roxbury Fire Station #1 to post a warning on Facebook:
We are aware of the deer that is stuck in the pond behind Walmart (Pondside Drive). We attempted to retrieve the deer today, but rescue was impossible. We will be returning tomorrow morning with OEM and their specialized equipment for this type of rescue.  PLEASE DO NOT ATTEMPT TO SAVE THE DEER YOURSELF. IT IS NOT SAFE!!!