Eddie Johnson retires from career service rank, officially no longer employed by CPD
CHICAGO - Former Chicago Police Superintendent Eddie Johnson has retired from his career service rank and is no longer employed by the Chicago Police Department, according to Mayor Lightfoot's Press Office.
The new development comes after Johnson said Tuesday that he didn't "intentionally mislead or deceive" anyone about the mid-October night he was found sleeping behind the wheel of his SUV.
Johnson, 59, released a statement through his attorney on Tuesday after Mayor Lori Lightfoot fired him for "ethical lapses," just weeks before he was set to retire. She said an inspector general's report, which hasn't been released publicly, revealed he misled her and the public about the circumstances of that evening and showed "flawed decision-making."
Two Chicago newspapers published reports Monday night that seem to contradict Johnson's public account in which he blamed an issue with his medication, saying he felt lightheaded while driving home and fell asleep after pulling over. Lightfoot said he'd told her he had "a couple of drinks with dinner."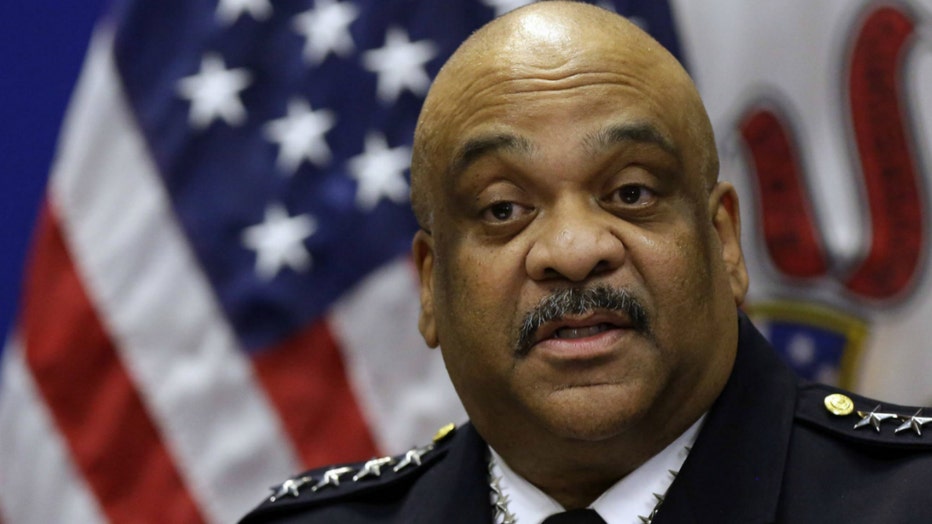 (Photo by Joshua Lott/Getty Images)
One of the newspapers, the Chicago Sun-Times, reported that multiple employees are under investigation for an alleged cover-up the night Johnson was found asleep in his vehicle and the next day. Department spokesman Anthony Guglielmi said he did not know what the inspector general is investigating but that the inspector general's office has not requested any member of the department's command staff or any officers be relieved of their police powers or that any other action be taken.
The Sun-Times reported that Johnson, who is one of the most recognizable figures in Chicago, was drinking for hours with a female member of his security detail at a downtown restaurant and that sources told the paper that restaurant video shows the two kissing repeatedly. The Chicago Tribune reported that the inspector general's investigation includes video showing Johnson drinking for hours with a woman at a Chicago Board of Trade building restaurant. Both newspapers attributed the information to sources they didn't identify.
"One thing I want everyone to know is this: I did not intentionally mislead or deceive the Mayor or the people of Chicago," Johnson said in the statement. "I acknowledge that I made a poor decision and had a lapse of judgment on the night of October 16. That was a mistake and I know that."
You can read Johnson's full statement released on Tuesday below. 
The Associated Press contributed to this report. This is a developing story. Check back for updates.