Experts: Illinois school election affirms transgender policy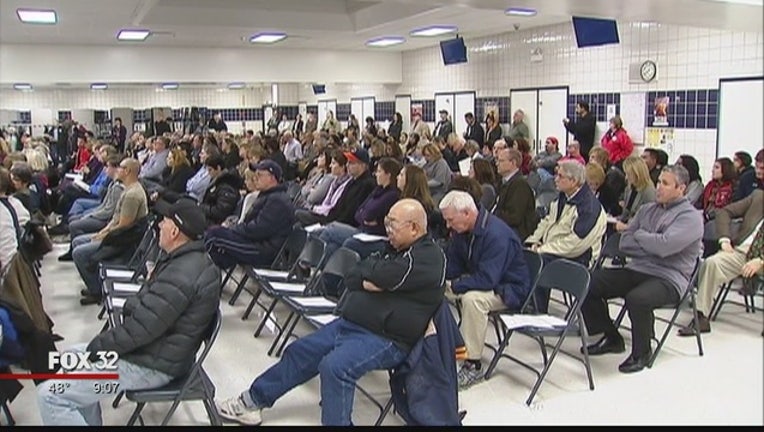 article
CHICAGO (AP) - School board candidates who supported a plan to let a transgender student use the girls' locker room at a suburban Chicago school survived an election challenge in one of several local races that took on an issue that has been the focus of state and national debate.
Tuesday's contest in the roughly 12,000-student, five-high school district was a unique referendum on transgender bathroom use. While numerous schools and municipalities nationwide are grappling with the question, the issue overtook the election in suburbs northwest of Chicago, which was the community's first chance to weigh in at the ballot box.
Experts say the results in Palatine's Township High School District 211 could provide guidance, and political cover, to other districts. Two incumbents and a former board member supporting the policy won despite three challengers whose top priorities included changing it.
"It's encouraging," said Christopher Clark, a regional director for Lambda Legal. "The attempt to deny these students the ability to be who they are, and be safe in school serves no legitimate purpose. This may be a sign that the public is starting to understand."
The issue played a less prominent role in other Illinois elections Tuesday, including in the nearby Elgin School District U-46, which is Illinois' second largest with 40,000 students. There, unofficial results showed three school board candidates won after supporting a district policy allowing students to use bathrooms based on gender identity.
The Palatine district's current practice allows the student, who has lived as a girl since middle school, to use the girls' locker rooms with the understanding she would use a private changing station that other students also can access, as well as the girls' bathrooms. The policy followed a 2013 federal complaint, packed board meetings and intervention from former President Barack Obama's administration.
Opposition to its practice re-emerged on the campaign trail, with three candidates saying a top priority was to overhaul the policy.
The three challengers received backing from Parents for Privacy, which sued the district over claims that the transgender policy violates other students' privacy rights. But Vicki Wilson, who co-founded Parents for Privacy, said she didn't see the election as a referendum on the issue, since candidates also stressed fiscal responsibility.
"We're going to continue," she said Wednesday. "The children are not all being respected."
The group's federal lawsuit is being argued by the conservative Alliance Defending Freedom, which said Wednesday that several districts are going the other way. For example, school officials in Derby, Kansas, which last year crowned a transgender student king of a winter ball, this year reversed its policy allowing transgender students to use bathrooms matching their gender identity.
President Donald Trump's administration in February revoked an Obama administration directive instructing public schools to let transgender students use bathrooms and locker rooms of their chosen gender. Trump's administration is leaving it to states and school districts to interpret federal anti-discrimination law.
"It's not an easy issue, I admit that," said school board member Robert LeFevre Jr., who was re-elected with Anna Klimkowicz and a former board member. "There is not a right or a wrong answer. It's something to be managed and dealt with very carefully."
Some voters in suburban Chicago say they like the district's policy.
"If a student or a parent had a child that is transgender they should be able to use the appropriate bathroom of their choosing," said Palatine voter and parent Emily Meckstan.
The student at the center of Palatine's debate, who's being represented by the American Civil Liberties Union of Illinois, said she pursued legal action because her rights were being denied. The senior is preparing to go to college and said her gender isn't an issue in her day-to-day school life.
"Nobody cares," said the student, who spoke in a phone interview arranged by the ACLU, which has said she wishes to remain anonymous. "Young people don't make this an issue, their parents do."
___
Follow Sophia Tareen on Twitter at https://twitter.com/sophiatareen .
___
Associated Press writer Teresa Crawford contributed to this report from Palatine.