Fardon resigns; Joel Levin now Chicago's acting U.S. attorney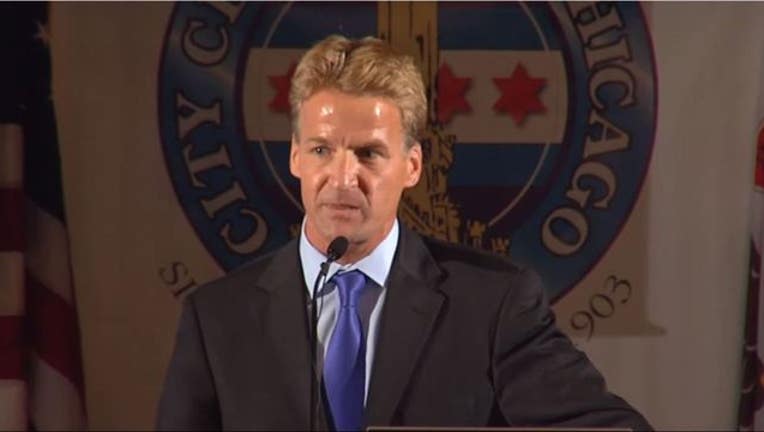 article
CHICAGO (AP) - The U.S. attorney in Chicago who oversaw the hush-money case of former U.S. House Speaker Dennis Hastert and who helped focus federal scrutiny on local police resigned Monday, lamenting in an open letter that "at no moment" during his 3 1/2-year tenure "did the gun violence abate" in the nation's third largest city.
Zachary Fardon resigned from the post that's widely seen as the second-most powerful job in Chicago, next to the mayor, three days after his new boss at the U.S. Department of Justice, Jeff Sessions, asked 46 prosecutors held over from the President Barack Obama's administration to step down.
Fardon felt pressure from the start to make stemming violence his top priority, and pressure built as killings spiked - hitting a 19-year high in 2016 with 762 homicides, more than New York and Los Angeles combined. President Donald Trump tweeted in January, "If Chicago doesn't fix the horrible 'carnage'..., I will send in the Feds!"
The five-page letter Fardon handed to reporters didn't directly criticize Trump or Sessions. But it alluded to questions about the new administration's commitment to Chicago police reforms in the wake of a Department of Justice report released in the waning days of Obama's presidency that found officers too often used lethal force.
The negotiation of a court-enforced agreement between the city of Chicago and the Department of Justice laying out a detailed police reform plan was critical to building a culture of integrity in the police department, Fardon said.
"It's past time to give our police officers what they need to succeed," he wrote. He added a court-enforced plan "is the only way that will happen."
Fardon, 50, described studying data and law enforcement methods of combatting violence after becoming U.S. attorney, saying he was "horrified and confused ... by the constant drumbeat" of deaths, especially of young people caught in the crossfire.
But he wrote: "At no moment during those three and a half years did the gun violence abate. Every month, every year, innocents died."
Fardon for years has said there are limits to what U.S. prosecutors can do to reduce violent crime, saying poverty and other social ills underpin the problem. He has pointed to his prosecution of gangs and drug dealers, as well as a stress on bringing federal gun charges, as proof his staff did all it could to tamp down violence.
Fardon Monday broached half a dozen proposals he said could help.
One, he wrote, was having the FBI, DEA and ATF work under a single command structure - possibly in a pilot program only in Chicago - to streamline bids to fight violent crime. He also noted street-gang attacks are often provoked by online threats, saying one idea is to curb access to social media of those with criminal gang ties.
"I recognize that First Amendment issues come into play, but let's test those limits," he said.
Fardon dismissed the idea - raised from time to time in Illinois - of deploying National Guard troops into high-crime parts of Chicago, saying that would send the wrong message to people in affected areas that, "This is war and you are the enemy."
Fardon's highest profile prosecution was Hastert, who is serving a 15-month prison sentence for breaking banking laws as he sought to pay $3.5 million in hush money to a former student to who Hastert sexually abused when he worked as a high-school wrestling coach. If he could have, Fardon has said he would have pressed for sex-abuse charges against the Illinois Republican. But statutes of limitation had long since run out.
Fardon's resignation was effective immediately Monday and his longtime No. 2, Joel R. Levin, becomes the acting U.S. attorney until a permeant replacement is selected.