Flood sweeps away cabins and cars; 20 people escape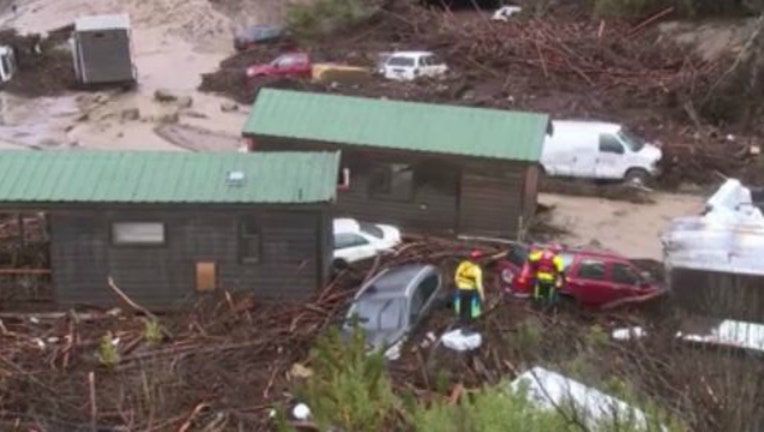 article
LOS ANGELES (AP) -- More than 20 people escaped injury when a flood swept cabins and vehicles down a coastal canyon as the second in a trio of storms drenched California with heavy rain and brought more snow to the mountains.
The dramatic scene about 115 miles northwest of Los Angeles came during a day of pounding rain in Southern California that caused flooding, rockslides and an avalanche warning. Trees were toppled, cars were stranded in surging water and five homeless people were rescued by helicopter Friday when their encampment was swamped.
 
The storm disrupted the first post-presidential vacation of Barack Obama and his family. Their plane had to be diverted from the Palm Springs airport to March Air Force Base 60 miles away.
 
After years of dry weather, California has been buffeted by rain and snow this winter. Northern California has gotten the lion's share and most of that region has now emerged from drought.
 
Another storm is expected during the weekend, and it's forecast to be fiercer than the previous two. A flash flood warning starting late Saturday has been issued for the San Francisco area.
 
Friday's storm was stronger than expected in Southern California.
 
A swollen creek lifted five cabins off their foundations at midmorning and swept 22 vehicles down El Capitan Canyon in Santa Barbara County, fire Capt. Dave Zaniboni said.
 
About 20 people stuck in the canyon were rescued from the private campground above a state beach, officials said.
 
"The water kept getting higher, and higher and higher, and then all the debris kept backing up and took out all the bridges, overflowed the bank, took out a bunch of cabins, took out a bunch of cars," Todd Martin, who works at El Capitan campground, told the Santa Maria Times.
 
Five of the vehicles and part of a cabin were found on the beach, officials said.
 
By early afternoon more than 5 inches of rain had fallen in Refugio Pass in the Santa Ynez Mountains just to the northwest of El Capitan Canyon.
 
A sheriff's helicopter returning to an airport after the canyon incident spotted a car swamped by water. A woman screaming for help from higher ground nearby was hoisted to safety, Zaniboni said.
 
In downtown Los Angeles, five people were rescued from a homeless encampment that was flooded.  And in the San Diego area, four students had minor injuries after they were hit by a toppled tree near Chula Vista Middle School.
 
Inland mountains were blanketed with snow, and the LA County Sheriff's Department warned of avalanche danger in Wrightwood.
 
Runoff and rockslides in the Santa Monica Mountains west of Los Angeles forced the California Highway Patrol to close all canyon roads in the Malibu area.
 
Storm warnings were also posted up and down the Sierra Nevada after the second storm dropped nearly 2 feet of snow at higher elevations.
 
Along the coast, big surf was rolling ashore, and forecasters said waves could build to 30 feet on the Central Coast.