Grandma of Gizzell Ford found guilty of murdering the 8-year-old girl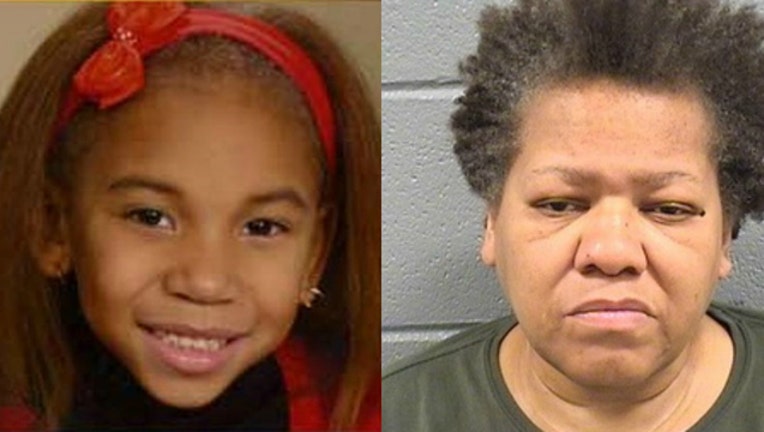 article
SUN-TIMES MEDIA WIRE - Gizzell Ford, a straight-A student, was by seen almost everyone who crossed her path as a "blessing"–a lovely, bright smart girl.
The 8-year-old, in her diary, expressed a desire to have a fulfilling relationship with her paternal grandmother nourished with deep conversation and love.
But all Helen Ford gave Gizzell was hell, the Chicago Sun-Times is reporting.
Tying her to a pole attached to her father's bed, Gizzell was used as "punching bag," whipped with a belt and deprived of food, water and sleep for days, Cook County prosecutors said.
"That child suffered a slow painful agonizing death," an incensed Judge Evelyn Clay said Thursday before finding 55-year-old Ford guilty of murder in a case that raised drew criticism of how the Illinois Department of Children and Family Services handles matters.
Gizzell died of strangulation in the summer of 2013, but contributing to her death were blunt force trauma, child neglect and the "evil" child abuse inflicted on her, Clay said as court spectators wiped away tears.
Ford, who prosecutors said never showed remorse nor shed a tear over her granddaughter's brutal death, remained stoic when Clay delivered her emotional ruling.
Ford may have squeezed the "life out of Gizzell's broken body," but she had been slowly killing her for days in the "filthy, disgusting" West Side apartment where maggots latched on to the girl's skull, Assistant State's Attorney Jennifer Coleman said.
"Even if she didn't strangle her, she wasn't going to let her walk out of that apartment alive," the prosecutor said.
Gizzell's father, Andre Ford, was a willing participant, cheerleading the abuse as he withered away from a chronic degenerative disease.
But the man–who died in 2014 while in custody in Cook County Jail for his daughter's murder–wasn't physically capable of the abuse, Coleman said.
Coleman and her partner Ashley Romito, in their closing arguments, went over the girl's journal before and after she started living with the Fords to illustrate how the abuse affected her.
"People say I'm smart, courageous and beautiful," the honor roll student wrote at the time she was "healthy, strong and vital," prosecutors said.
After the child was taken to live in the 5200 block of West Adams, her tone became more somber. "I hate this life. I really think that I'm a jerk," she wrote.
"She [Helen Ford] first broke her body, then she broke her spirit," Coleman said.
Fellow prosecutors sitting in court quietly sighed when Assistant Public Defender Jennifer Hodel said Helen Ford had "too much on her plate" and only tied Gizzell up because she tried to stab her father, her little cousin and tried to kill herself by jumping out of a window.
When mentioning the underwear the emaciated girl was seen wearing in a harrowing video and photos shown in court, Hodel said it was normal for some to wear so little on a hot summer day.
Helen Ford might have used questionable disciplinary methods, but she was in over her head caring for an adult bed-ridden son and other children, Hodel argued.
"That was the way Helen was trying to keep order, if you will, in that home," Hodel said. "… Having too much on one's plate. That's what this case is about. Helen was overwhelmed. She was overworked. She was unable to overcome what was on her plate."
If anything, Helen Ford should be convicted of involuntary manslaughter, Hodel said.
The defense attorney touched upon the DCFS case, mentioning how a judge took Gizzell away from her mother, Sandra Mercado, because they were kicked from home to home, and found wandering the streets at 2 a.m.
Romito said stories of Gizzell trying to attack family members were "unmitigated lies" by relatives who want to protect Helen Ford.
"What happened to Gizzell was an abomination … It makes you lose faith in the human race," Romito said, seethingly adding that the frail Gizzell had no chance against the "black, depraved heart" of the "obese" Helen Ford.
Then pointing to another one of Gizzell's diary entries, in which the girl had wrote that she had "failed," Romito said, "She didn't fail. The system that gave her to those people failed."
Members of the Mercado family in court Thursday declined comment.
Sandra Mercado, and Gizzell's grandfather, Juan Mercado, have sued the DCFS, but the case has been on hold as attorneys wait for evidence that had been in possession of prosecutors handling the criminal case, attorney Martin Dolan said Thursday.
Dolan said testimony in the criminal case against Helen Ford was chilling, and the timeline of the abuse showed numerous instances where child welfare investigators should have taken action, and stopped the abuse well before Gizzelle's death.
"There was corroborating evidence that should have thrown up major red flags," Dolan said. "We haven't had time to examine all of it yet."
When a few of Helen Ford's relatives were asked if they wanted to comment after court Thursday, one woman raised her middle finger at reporters.