Power outages, flights canceled after Wednesday's storms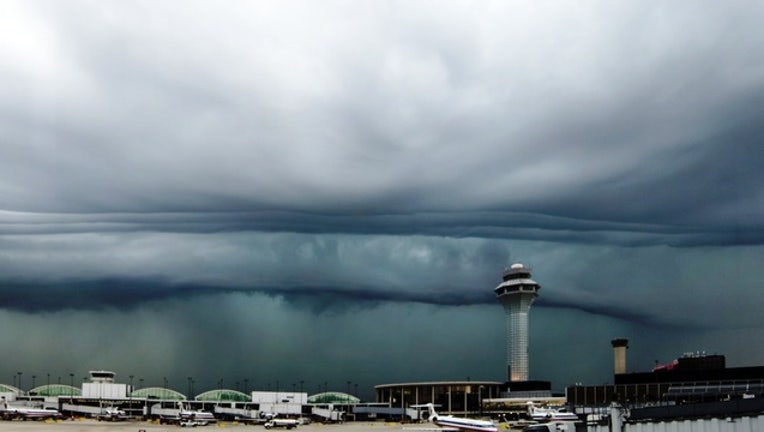 article
CHICAGO (SUN TIMES MEDIA WIRE) - More than 2,000 people remained without power and more flights were canceled Thursday morning as Illinois residents recovered from powerful storms, including four tornadoes that touched down Wednesday night.
Just after 11 p.m. Wednesday the National Weather Service confirmed a tornado had touched down near Piper City. About 10:15 p.m., another tornado touched down about seven miles west of downstate Pontiac.
An hour earlier, another tornado touched down in Seneca, trapping people inside a home, according to the weather service. Another confirmed tornado was reported at 7:32 p.m. seven miles west of Paw Paw.
"Given the reports of tornado touchdowns across north-central Illinois last night, we are fortunate things are not worse and thankful there were no fatalities," a Thursday statement from Gov. Rauner said. "Diana and I are thinking of those who were injured or suffered property damage in the storms and send our prayers to you."
"I continue to receive regular updates from the Illinois Emergency Management Agency on damage assessment and cleanup today, and the Illinois State Police are on patrol offering assistance to local law enforcement. A special thanks to our first responders and volunteers who have been working tirelessly throughout the night to ensure the safety of our citizens," Rauner said.
As of midnight, about 15,000 residents were without power, according to ComEd, but by 7 a.m., only about 2,400 customers remained without power.
As of 7:45 a.m. Thursday, more than 100 flights had been canceled at O'Hare International Airport but airlines were not reporting delays, according to the city's Department of Aviation. At Midway International Airport, a few flights were canceled and less than a dozen delays averaging of 15 minutes or more.
On Wednesday, 325 flights were canceled at O'Hare and more than 70 were canceled at Midway.
Thursday was expected to be foggy and cooler, with a high around 74 degrees and a few showers possible, according to the weather service. Swimming conditions in Lake Michigan could be dangerous.
The weekend will warm up, with highs in the mid-to-high 80s Friday, Saturday and Sunday.