Woman, ex-boyfriend staged home invasion, killed dog: Police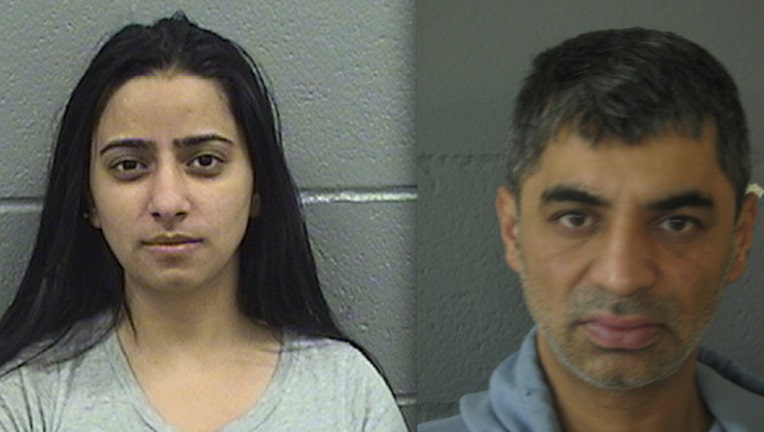 article
(SUN TIMES MEDIA WIRE) - A woman and her ex-boyfriend have been charged with multiple felonies after they allegedly staged a home invasion last year in northwest suburban Maine Township and planted marijuana and a dead dog in her husband's vehicle.
Mehwish Memon, 30, of the 9400 block of Bay Colony Drive in unincorporated Des Plaines; and Syed Hassan, 38, of the 2800 block of South King Drive in Chicago, were each charged Tuesday with home invasion, aggravated unlawful restraint and filing a false police report, police said.
About 11:20 p.m. Dec. 30, 2016, sheriff's police responded to Memon's home for a report of a home invasion, according to a statement from the Cook County sheriff's office. Investigators were told a man in a black ski mask who was armed with a gun forced his way into the home. The gunman punched Memon in the face and tied up her 32-year-old husband with packaging tape before beating him with a stick.
Investigators eventually determined Hassan was the masked intruder and Memon planned the home invasion with him, police said.
Memon and Hassan were also charged Jan. 10 in connection with a Skokie police investigation in which a dead dog, marijuana and a gun were found in Memon's husbands vehicle, the sheriff's office said. In that case, investigators determined Memon had given Hassan a key to her husband's vehicle and — with her knowledge — shot and killed a dog, and placed its body inside the vehicle with the gun and marijuana.
Memon's bail was set at $200,000 and Hassan's was set at $400,000 during an appearance in court in Skokie on Thursday.