Cutler doubtful for Sunday with shoulder injury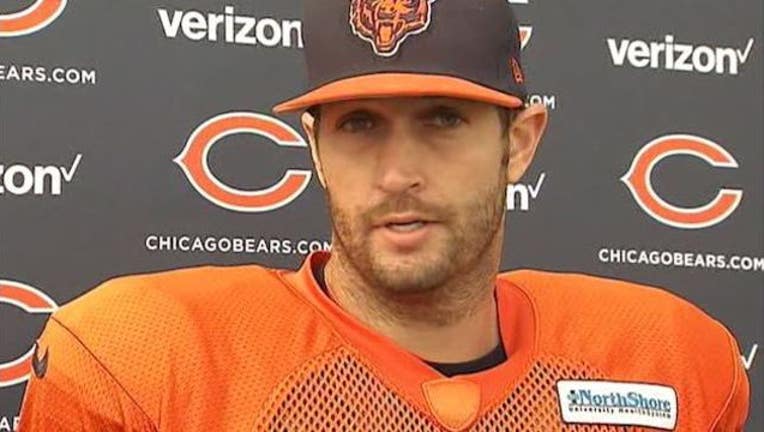 article
LAKE FOREST, Ill. (AP) — Chicago Bears quarterback Jay Cutler is listed as doubtful for Sunday's game against the Tennessee Titans due to a shoulder injury.
Backup Matt Barkley is set to make his first NFL start.
Cutler suffered a right shoulder injury last Sunday against the New York Giants and has not practiced all week. Initial reports said Cutler could be done for the season, but coach John Fox this week said it's not a season-ending injury.
Barkley has played for the Bears only after backup Brian Hoyer broke his left arm Oct. 19 at Green Bay. He also played in relief for Philadelphia in 2013 and 2014, and is 36 for 65 for 381 yards with six interceptions and no touchdown passes.
"We obviously can see what he's comfortable with, the things that come easily to him," Bears offensive coordinator Dowell Loggains said. "Some things will be a challenge. There will be some adjusting in the game, as it gets going, to see how he's seeing the defense.
"We really haven't seen him in this role in our offense as a starter with a full week of preparation, so there's always a little bit of uncertainty. But we're very confident that he's going to go out and perform well."
Barkley isn't sure what this start or any subsequent ones will mean regarding his future with the Bears, but said he'll simply draw on his past as a USC starter.
"Even high school, we were on nationally televised games and big crowds kind of through my whole life, big moments," Barkley said. "I don't like to see the big picture when it comes to living in that moment; I like to focus on the task at hand. That's kind of carried with me up until this point.
"And I've learned a lot from other quarterbacks in this league that I've been with who kind of had that same mentality, so that's helped."
The only Bears player officially out for Sunday's game is linebacker Leonard Floyd, who has not yet passed the NFL concussion protocol following a head/neck injury against the Giants. He had to be taken by ambulance to the hospital after that injury.
Guard Josh Sitton (ankle) is also doubtful and would be replaced for the second straight game by Eric Kush if he's unable to play. Sitton has not practiced this week.
Wide receiver Eddie Royal (toe), defensive end Mitch Unrein (back), linebacker Christian Jones (ankle/back) and cornerback Deiondre Hall (ankle) are questionable.
The Bears have not yet activated cornerback Kyle Fuller, who has been on injured reserve with a status to return. He had arthroscopic knee surgery in August and has been evaluated in practices this week.
___
For more NFL coverage: http://www.pro32.ap.org and http://www.twitter.com/AP_NFL