Fox faces questions about decisions after Bears' latest loss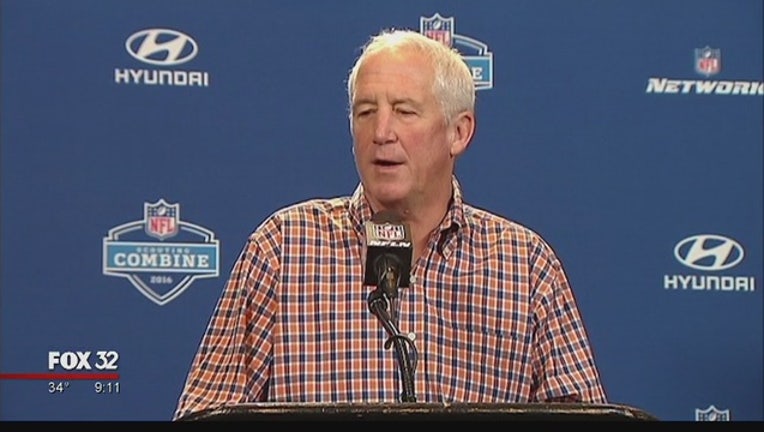 LAKE FOREST, Ill. (AP) — Coach John Fox wasn't interested in close calls and bright spots in the wake of the Chicago Bears' latest gut-wrenching loss.
"We're here to win," he said. "That's the goal."
The Bears once again came up short, losing to the Green Bay Packers 30-27 when Aaron Rodgers hit Jordy Nelson with a 60-yard pass to set up Mason Crosby's field goal as time expired Sunday.
That happened after Chicago (3-11) wiped out a 17-point deficit in the fourth quarter and tied it on a field goal by Connor Barth, only to come away with a gut-wrenching loss.
They head into Saturday's game against Washington with no shot at matching the 6-10 mark of Fox's first season. The best they can do is match the 5-11 mark in 2014 that led to Marc Trestman's firing.
If they drop their remaining games against the Redskins and Minnesota, the Bears will do something they have not done in a non-strike year since the NFL schedule expanded to 16 games in 1978 — finish with fewer than four wins.
They've gone 4-12 three times since, most recently in 2002. But the last time they finished with three wins or less in a full season was 1973, when they went 3-11.
Despite being done in by poor play and a long list of injuries to go with a few suspensions, the Bears at least are showing some fight. They've dropped two in a row by three points, and six of their losses are by seven or less.
They made things interesting against Green Bay after they fell behind 27-10. But it was an all-too-familiar result, with some questionable decisions down the stretch.
Facing a fourth-and-goal at the 4 trailing by three with 1:23 remaining, Fox had a decision to make: go for the win or the tie?
Fox opted for the tie, betting his defense would come through with the stop and send the game into overtime.
"Well, that would have been better than what ended up happening," Fox said.
Instead, it was the Packers striking gold. But before the big pass from Rodgers to Nelson, there was another decision that raised some eyebrows.
Chicago declined a 10-second runoff with 54 seconds remaining after Green Bay guard Lane Taylor got hurt on a run for a loss that left the Packers facing a third-and-11 at their 26.
That would have been easy to understand if the Bears were going for the win because they had two timeouts remaining and the Packers had none. But Chicago had just played for overtime on the previous series by having Barth kick the field goal rather than go for a touchdown.
Rodgers allowed 18 seconds to run off the clock before taking the snap and firing deep to Nelson.
The Bears also could have called a timeout with 54 seconds left.
"It was going to be a winding clock, we knew all that," Fox said. "Without the 10-second runoff, let's say we get the stop on third-and-11, there's not going to be that much time. It's depending on where you want your timeouts. It's kind of six/half-dozen. It kind of really doesn't matter because it's not the way it went."
There were also questions about coverage on the deep pass. After all, Nelson was all alone with Cre'Von LeBlanc and got behind him.
"I think we'd run that particular coverage a couple of other times and been successful," Fox said. "Actually, we had a decent day on third down against the Pack, it's a coverage that we played before. Like I said yesterday, they just made a really good play."
Notes: Fox said WR Eddie Royal is headed to injured reserve because of a toe injury. ... LB Jerrell Freeman returned from a four-game suspension for violating the NFL's policy against performance enhancers.
___
For more NFL coverage: http://www.pro32.ap.org and http://www.twitter.com/AP_NFL