Khalil Mack, Bears defense look to turn sacks into turnovers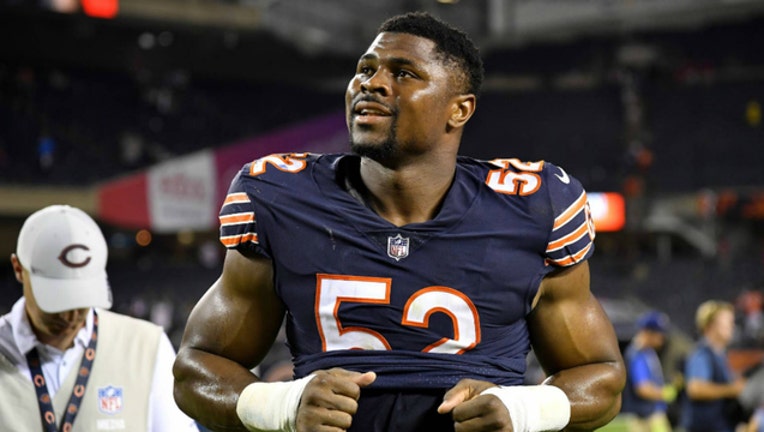 article
LAKE FOREST, Ill. (AP) - In just a few weeks, linebacker Khalil Mack and the Chicago Bears defense feel they've established an identity.
The identity is no secret: They're coming after the quarterback and the football.
The Bears hope to build momentum Sunday against the Arizona Cardinals after they beat Seattle 24-17 Monday night. And a defense leading the NFL in sacks is giving them a shot at climbing over .500 for the first time since September 2014.
"Consistency is what you want, especially from a defense on the road," Mack said. "It's going to be very important to go out, pack our defense and do what we're capable of doing."
Mack's impact has gone beyond consistency for the defense. Now they're all trying to get the football the way he did when he stripped it from quarterbacks Aaron Rodgers and Russell Wilson while they threw in each of the first two games.
"If you can't tell, it's very contagious," Mack said.
There's method to the madness Mack has created on the field.
"You definitely consciously work on that," Mack said. "That's something you want to preach throughout the whole defense - getting the ball back to the offense. Creating a short field (for the offense) is a great feeling, but it feels even better when you can score it yourself."
Linebacker Danny Trevathan had two sacks and a forced fumble against Seattle and was the NFC Defensive Player of the Week. The defense has 10 sacks in all, and has scored two touchdowns on interception returns.
"The ball is the most important thing on the field," Mack said. "You can get the big hits. But the ball is very, very important, especially in a game."
They think it will only get better.
"Oh yeah, that's what they pay us the big bucks for," Trevathan said.
Mack came over in a trade just before the season with Oakland and received the biggest defensive contract in history, with $90 million guaranteed.
New teammates immediately saw big plays from him against Green Bay in the opener, with a fumble forced, recovered, a sack, an interception and a touchdown return.
They all wanted to imitate him.
"I believe for us, just seeing it happen, you'll want to go out and do it yourself," linebacker Leonard Floyd said. "It definitely motivates the rest of the team to go out and make those types of plays."
By watching Mack, Floyd thinks he can pick up techniques for getting around the corner and knocking out the ball.
"It's definitely a skill you can learn," Floyd said. "It's a skill of just wanting to get the ball out. Just when you get the opportunity, you want to force a turnover."
Another reason the Bears defense sees possible improvement ahead is they've operated so far at less than 100 percent capacity.
Floyd still has to wear a club cast on his right hand to protect a fracture, and doesn't have a sack. He said he hopes this week to reduce the size of the protective cast.
Rookie Roquan Smith has eight tackles, a sack, and just started to make an impact last week after holding out most of training camp. And Mack says he's still adjusting to a new team, new scheme and playing again after a preseason holdout.
While new teammates are imitating Mack, he's also gaining a respect for them - Trevathan in particular.
"You can tell he won a championship," Mack said of the former Bronco. "That's definitely what he's bringing to the table, that communication and vibe that you feel from your vocal leader."
The Bears finished 10th defensively last year, ninth in points allowed, and they expected to be better. Mack's addition has changed expectations outside of Halas Hall, but coach Matt Nagy insisted it did nothing to his belief in the team.
"It didn't change any mentality at all," Nagy said. "I told (reporters) from the day we walked into this building here, there was one goal and that was to win the Super Bowl. That was it. That was with the team that we had, before Khalil.
"Now that he gets here, he helps us get better on that side of the ball and helps us be better as a team as a leader. The goal never changed. Maybe it has to outsiders, but for people in this building it hasn't changed."
___
More AP NFL: https://apnews.com/tag/NFL and https://twitter.com/AP_NFL