Roquan Smith signs with Bears, and gets right to work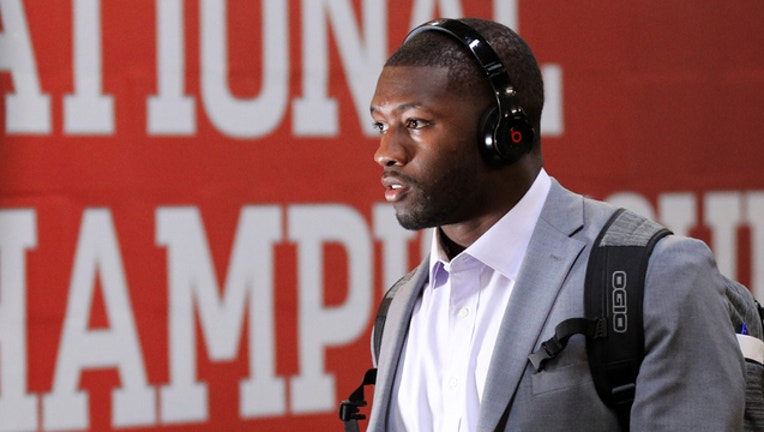 article
LAKE FOREST, Ill. (AP) - Roquan Smith wore a smile on his face, and a Chicago Bears uniform for the first time since training camp started.
The Bears on Tuesday got a first look at their first-round round draft pick 30 days after he was supposed to report with rookies for camp. Both sides quickly sought to put the stalemate in the past.
"It's a great feeling just to be back out here with my teammates, getting back into rhythm," Smith said. "So it's an awesome feeling."
Drafted by general manager Ryan Pace No. 8 overall, the Georgia linebacker had been the last unsigned pick of the 2018 NFL draft.
Smith settled on a four-year contract that guarantees $18.5 million and includes an $11.5 million signing bonus, a person familiar with the talks told The Associated Press. The person spoke Monday night on condition of anonymity because the deal had not been announced.
The sticking point reportedly had been the agent's insistence on protection for Smith regarding guaranteed money.
"That's between my agents and Mr. Pace," Smith said. "So that was something that they had to deal with, and we got it all figured out."
The Bears immediately put Smith to work at Halas Hall. The team worked out at one of their new practice fields before leaving for Denver to practice and play against the Broncos. He practiced with the first and second team during an unpadded workout.
Smith missed all of their practices at Bourbonnais. So now it's a matter of catching up.
"We understand that he's a very driven individual, both on and off the field," coach Matt Nagy said. "And I know he's going to do everything he possibly can to catch up. ... It's good for him to get back in shape and take some hits."
Smith will practice in Denver, but Nagy said it's too soon to say whether he'll play Saturday.
Smith said he's in shape after working out on his own in Georgia during the holdout.
"I was training pretty hard down in Athens, back at school," he said.
Coaches will closely watch Smith during practice the next few days to avoid injuries.
"Now it's going to naturally pick up when you go against another team," Nagy said. "But I'm not worried about it with Roquan. I know that he'll be ready for that, as the rest of our guys will."
As an inside linebacker, Smith is responsible for defensive play calls. He has tried to stay familiar with the defense through video and the playbook.
"I think you've got to look at it more as position-specific and that middle linebacker spot is a spot that has a lot of calls," Nagy said. "So it's one thing to be able to be in your books and see it, and see it on video. It's another thing to be out there on the field and doing it.
"So for him, because he plays that position, there might be a little more catching up to do than per se a corner or somewhere else."
Nagy expects defensive coordinator Vic Fangio to throw as much of the defense at the rookie as possible.
"If you take too many baby steps and you don't test him enough, then you don't know what his limit is," Nagy said. "So I think you go ahead and you throw stuff at him.
"I think right now we have to make sure physically you don't overdo it. Mentally, he's fine. We can pull back on that but physically don't overdo it."
Smith said he remained close with teammates through texts. Neither he nor the team believes the holdout will have a lasting effect.
"I think we're all big boys in this thing and we understand what goes on and the ultimate ending right now is that he's here," Nagy said. "We understand that He's got a lot of work to catch up, he knows that."