Tex Winter, innovative basketball coach, dead at 96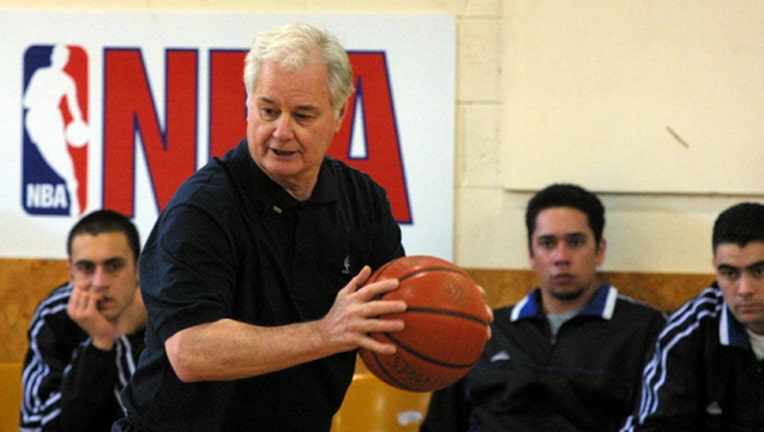 article
MANHATTAN, Kan. (AP) - Tex Winter, the innovative "Triangle Offense" pioneer who assisted Phil Jackson on NBA championship teams with the Chicago Bulls and Los Angeles Lakers, has died. He was 96.
Winter's family said he died Wednesday in Manhattan, where he began his coaching career at Kansas State in 1947 and led the Wildcats to two Final Fours and eight Big Seven/Eight titles as head coach from 1954-68.
"I learned so much from Coach Winter. He was a pioneer and a true student of the game," Michael Jordan said in a statement emailed to the Chicago Tribune. "His triangle offense was a huge part of our six championships with the Bulls. He was a tireless worker. Tex was always focused on details and preparation and a great teacher. I was lucky to play for him. My condolences to his family."
Former Lakers star Kobe Bryant called Winter a basketball genius "in every sense of the word."
"My mentor. I sat with Tex & watched every minute of every game during our 1st season together. He taught me how to study every detail," Bryant posted on Twitter.
Winter published "The Triple-Post Offense" in 1962 and teamed with Jackson to use the system to great success with Jordan and Bryant. Winter assisted Jackson on championship teams with the Bulls in 1991, 1992, 1993, 1996, 1997 and 1998, and the Lakers in 2000, 2001, 2002. He was a consultant with Los Angeles' 2009 title team, and the Lakers also won in 2010.
"Tex Winter was a basketball legend and perhaps the finest fundamental teacher in the history of our game," said Bulls President John Paxson, a former player under Winter. "He was an innovator who had high standards for how basketball should be played and approached every day.
"Those of us who were lucky enough to play for him will always respect his devotion to the game of basketball. His contributions to the Bulls organization will always be remembered."
Inducted into the Naismith Memorial Basketball Hall of Fame in 2011, Winter spent more than six decades in coaching.
"On behalf of the entire Lakers organization, I'd like to express our sadness at the passing of Tex Winter," Lakers owner Jeanie Buss said in a statement. "Tex helped lead the team to four NBA championships and was a mentor to many of our coaches and players. In addition to his numerous contributions to the game of basketball, Tex was a wonderful man and he will be dearly missed. Our thoughts and prayers go out to the Winter family."
Winter was 451-336 as a college head coach, also directing Marquette (1951-53), Washington (1969-72), Northwestern (1975-78) and Long Beach State (1978-83). He coached the NBA's Houston Rockets in 1972-74, going 51-78.
"Today is a sad day for not only Kansas State University but also the entire basketball world with the passing of Coach Winter," K-State athletic director Gene Taylor said in a statement. "He transformed the game of basketball at all levels and will always remain an integral piece of our rich basketball tradition here at K-State. Our thoughts and prayers are with the Winter family during this time. He will certainly be missed by the entire
Born Morice Fredrick Winter in 1922 near Wellington, Texas, he grew up in Huntington Park, California, and starred at Oregon State and Southern California in basketball and as a pole vaulter. He entered coaching at Kansas State in 1947 under Jack Gardner.
"While the Winter family mourns the loss of a husband, father and grandfather, we also celebrate what was by any measure a fruitful, productive and eventful life," Winter's family said in a statement. "The Winter family would like extend appreciation to all those who played an important role in Tex's life. We would also like to extend thanks for the outpouring of blessings in the wake of this sad news."