16-year-old boy arrested in Florida high school bathroom sex incident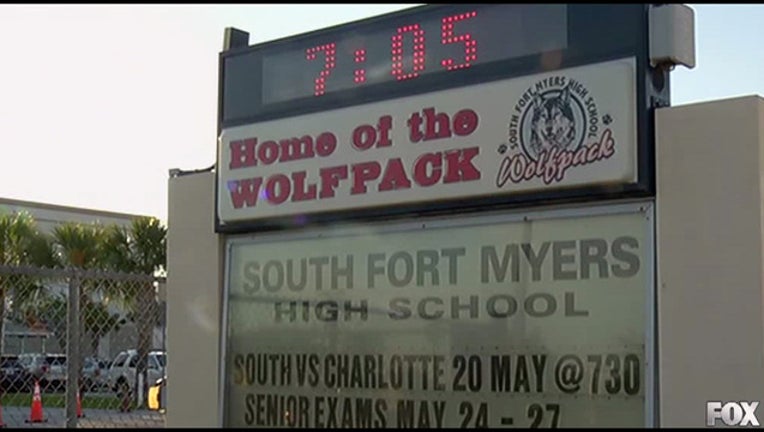 article
A Florida sheriff's office arrested a 16-year-old high school football player Friday in connection with a 15-year-old girl having sex with multiple boys in a public school bathroom.
The 16-year-old was charged with cruelty toward a child, allowing a child to engage in a sexual act and possession of obscene material, Lee County Sheriff's Office spokesman Tony Schall said in a news release.
"While it is regrettable that this incident occurred in the first place, we are always committed to holding everyone responsible for their actions," Sheriff Mike Scott said.
According to a police report, the girl confirmed that she had sex with a number of "willing males" in the bathroom at South Fort Myers High on May 17. The report said a school-based sheriff's detective watched a security video and saw 25 teen boys walk into the restroom. The girl and her parents were unwilling to press charges.
The Associated Press is not naming the arrested teen because he is a minor.
Florida's age of consent is 18, but state law contains a provision allowing 16- and 17-year-olds to consent to having sex with someone age 16 to 23.
Sixteen students were disciplined by the Lee County School District.
Authorities originally decided not to pursue any criminal charges, but when video of the encounter surfaced and was sent to news outlets and posted online, detectives and the Florida Department of Children and Families decided to investigate further.
News of the incident spread both on social media and within the county. A local church held a forum this week about rape culture. The school superintendent and principal sent letters to parents.
Superintendent Greg Adkins wrote earlier in the week that "conversations about right and wrong have occurred in many contexts, and with the parents present."
Also Friday, the head of a southwest Florida group that advocates for sex trafficking victims told a local TV station that the girl was a victim of trafficking and was 13 years old when she was first sold for sex. Megan Estrem, the head of Be the Light, spoke to NBC2-WBBH and said the girl had been at the high school for two weeks when the bathroom incident happened.
Estrem declined to talk to other media outlets.