A day after the shouting, GOP and Democrats back talking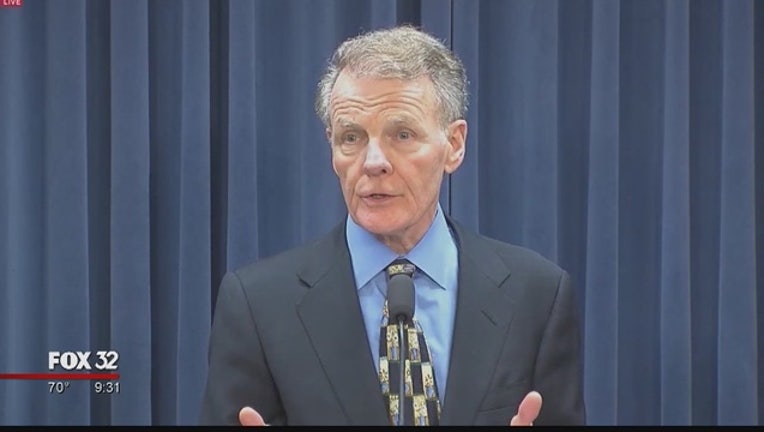 article
SPRINGFIELD, Ill. (AP) - A day after Republicans booed and yelled at Illinois House Democrats for passing their own budget without GOP input, leaders from both parties and the governor resumed talks Thursday on how to end an 11-month budget stalemate.
But negotiations remain tenuous and lawmakers conclude their spring session Tuesday.
"The Democrat leaders now share our sense of urgency of bringing this impasse to a close," Republican House Leader Jim Durkin said after the meeting in Gov. Bruce Rauner's office.
Their comments came less than a day after House Democrats approved a nearly $40 billion budget within hours of its introduction Wednesday evening. The Republican governor has already threatened to veto it if it passes the Senate.
The spending plan House Democrats proposed includes money for schools in one single bill, unlike last year when it was separated from the rest of the budget. Schools were then largely spared the consequences of the budget impasse because Rauner approved their funding.
Now there's anxiety from public schools that they might not get the funding needed to open this fall.
"It's all getting very concerning. And as a citizen and a taxpayer, I would expect that the legislative bodies would've done something not in the eleventh hour to solve this," said Jan McDermit, 48, who has two children at Chicago's Hamilton Elementary and took part in a large rally at the Capitol Thursday urging lawmakers to pass a plan funding schools.
Illinois is the last state in the country still without a budget for the current fiscal year.
After lawmakers adjourn, they can still pass a budget for the fiscal year that begins July 1 but it will be more difficult because it will require support from three-fifths of each chamber instead of a simple majority.
John Patterson, a spokesman for Democratic Senate President John Cullerton, described the meeting on Thursday as positive.
"And the Senate president looks forward to continued cooperation," he said.
Steve Brown, a spokesman for Democratic House Speaker Michael Madigan gave a more lukewarm assessment of the meeting. He said Madigan is "continuing to urge the governor and aides to be more persuasive on their efforts to pass the personal agenda" and that they should "avoid the temptation to hold Illinois hostage as a tool."
Rauner said the Democrats' latest plan is "not really helpful to anything because it's not realistic, it's not honest, there's no way to pay for that spending level."
His office has said the Democrats' budget is $7 billion out of balance. Democrats note that the budget Rauner proposed in February was also $4 billion short of expected revenue.
Rauner declined to say Thursday what he would do with the education portion of the budget. Instead, he said he's "cautiously optimistic" that lawmakers in several working groups can reach agreement on some of the pro-business, union-weakening proposals he wants as a condition to raising taxes.
The state is facing a $5 billion deficit and growing.
Democrats have shown no interest in considering Rauner's ideas he says will improve the state's economy. They have instead repeatedly called his plans an attack on the middle class.
Rauner and legislative leaders plan to meet again Friday.