Centuries-old church emerges from water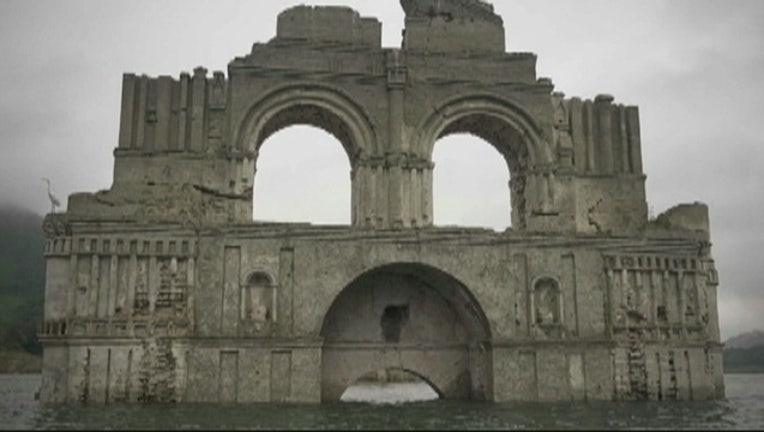 article
NEW YORK (FOX 5 NY) - The remains of a colonial-era church submerged decades ago in a southern Mexico reservoir have reappeared and become a tourist attraction of sorts as people take boats to see the structure poking out of the water.

It's the result of a drought that has caused the Nezahualcoyotl reservoir to fall 25 meters (82 feet). It is the second time that dropping waters have revealed the 16th century church since it was flooded when the reservoir was created in 1966. In 2002, the water fell so low visitors could walk inside the church.

For the first time, a Mass was conducted in Mexico's indigenous Nahuatl language this past week. The service was held at the Basilica of Guadalupe, the country's most important church. Nahuatl was the language of Juan Diego, the first indigenous saint, who Catholic tradition says saw the Virgin of Guadalupe nearly 500 years ago.

Nicaraguan riot police stormed the mining hamlet of El Limon, firing tear gas and rubber bullets. Joined by townspeople, miners on strike over the firing of three union leaders had cut off access to the mine and El Limon with roadblocks of rocks and branches.

In Guatemala, authorities called off the search for victims still buried under a landslide that killed at least 280 people. Officials promised financial aid for survivors and are proposing to build 150 new homes on a 10-block parcel seized from a convicted drug trafficker and gang leader.

A man in Trinidad named Jose posed with his rooster Luis for tourists visiting his Caribbean island. It's a colorful career he carved out after retiring as a sugarcane worker.

Young boys in Cuba, meanwhile, grabbed attention by hitching a ride on a bumper of a car driving through an inundated street in Havana.
Copyright 2015 The Associated Press. All rights reserved. This material may not be published, broadcast, rewritten or redistributed.