Chicago's top cop promises sweeping response to killing of girl, Lightfoot says there are 'promising leads'
CHICAGO - The Little Village community continues to grieve after the murder of an 8-year-old girl over the weekend. Chicago police said the child was the unintended target of a longstanding gang conflict.
The gunman, on Monday, remained at-large. Chicago Police Superintendent David Brown said CPD will "spare no expense" and exhaust every resource necessary to bring that person to justice.
"We owe it to Melissa and her family and this city to hold every person involved accountable," said Brown.
Brown announced that specialized anti-gang units will be saturating the area in the coming days and weeks.  
"We've turned up the heat on gangs in the city and we will continue to do that," he said. "But this special focus is purposeful because an 8-year-old … is senselessly killed in our city. So I think it's quite appropriate that we raise the level of resources, our sense of urgency to send an even stronger message to gangs, particularly in the Little Village neighborhood."
MURDER OF 8-YEAR-OLD MELISSA ORTEGA: ACTIVISTS DEMAND SOMEONE COME FORWARD, IDENTIFY KILLER
Baltazar Enriquez is the Little Village Community Council president.
"This is not what my neighborhood is about and we will continue to fight for our children," he said.
On Monday, a memorial for Ortega continued to grow in the 4000 block of W. 26th Street.
There, the Little Village Community Council spoke out – calling for change.
"We must stop the violence," said Enriquez.
They're demanding help from elected officials, and asking for funding to open mental health clinics in the neighborhood.
"I myself have a 7-year-old little girl, and I walk these same streets with her," said Chella Garcia, Little Village Community Council. "I have to now be shielding her from someone who might be killing her." 
Earlier Monday, Mayor Lori Lightfoot extended her public condolences to the girl's family.
"Losing a child under any circumstances is horrifying. And the circumstances in which this family lost this precious, precious child is almost unspeakable," the mayor said at an unrelated news conference.
"As it always does, the Little Village community has really stood up and rallied to wrap its arms around the Ortega family and really help with every conceivable need," she said.
ROOFTOP PASTOR ON MELISSA ORTEGA MURDER: 'HOW MANY BEFORE OUR LEADERS WAKE UP? THEY WILL NEVER WAKE UP'
Lightfoot held out hope that police would make an arrest soon. "I can't get into a lot of details. But I can tell you … that there are some promising leads. And I hope that we'll have a more substantive announcement soon," she said.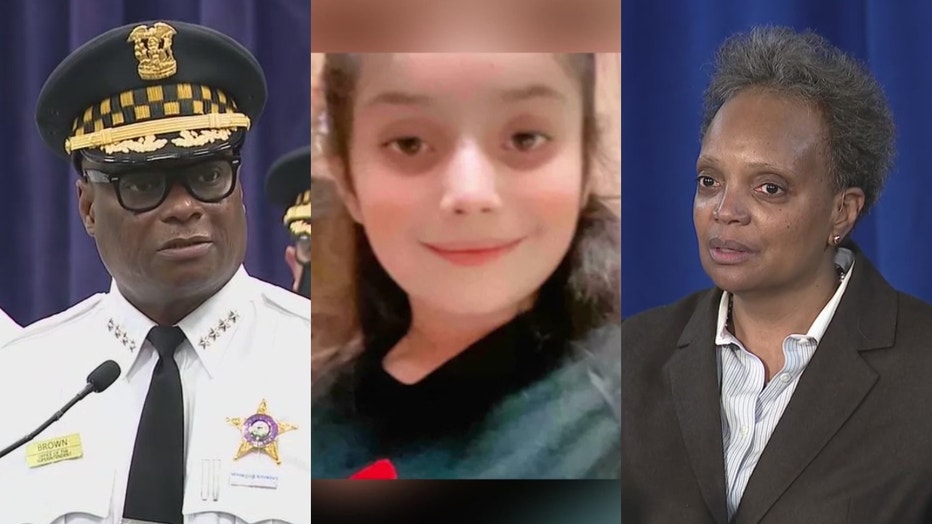 Supt. Brown, Melissa Ortega, Mayor Lightfoot
Ortega moved to the U.S. from Mexico last August to start a better life with her family and to pursue the American Dream.
On Saturday, Jan. 22 that dream was cut short when Ortega was caught in the middle of a gang conflict. She was walking with her mom, when police said a gunman emerged from an alley and opened fire.
Ortega was shot twice in the head. The intended target – a gang member – was shot and injured.
"We've got to make sure we send a very clear message and strike very hard blows against every gang member in our city," said Mayor Lightfoot.
Ortega attended Zapata Elementary School. In a letter to families sent over the weekend, Principal Ruth Garcia expressed deep sadness over Ortega's death, writing: "Our thoughts are with her family during this difficult time. This loss is sure to raise many emotions, concerns, and questions for the entire school, especially our students."
The school is providing grief counseling to students and staff in the wake of Ortega's killing.
By Monday evening, a GoFundMe account that was started to help cover Ortega's funeral expenses had raised more than $55,000. According to the page, Ortega will be buried in Mexico.
Sun-Times Media Wire contributed to this report.