Extra-alarm blaze in Lake View caused by a cigarette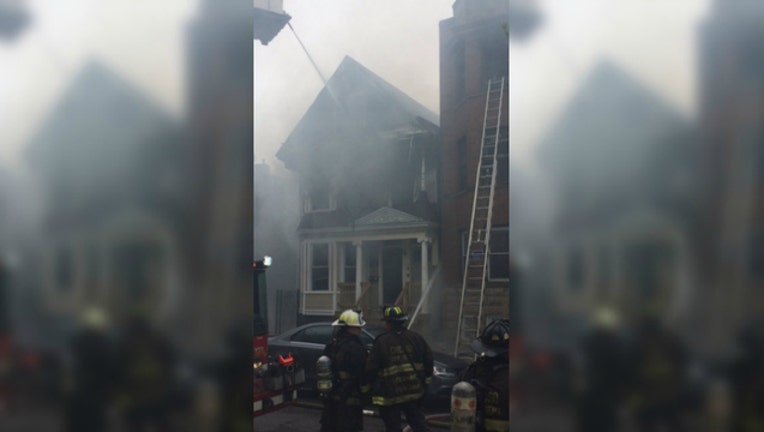 article
CHICAGO (Sun-Times Media Wire) - An extra-alarm fire that displaced 30 people from their homes, left a firefighter injured and damaged 12 buildings Monday evening in the north Side Lake View neighborhood was caused by a cigarette.
The fire started about 5 p.m. on the rear porch of a 2 1/2-story apartment building at 3338 N. Marshfield and spread to 11 surrounding buildings, according to Chicago Fire Department District Chief Dan Cunningham. The fire also downed a few power lines in the area.
One firefighter suffered suffered burns to their arm, according to Fire Media Affairs. They were treated as Advocate Illinois Masonic Medical Center.
No other injuries were reported, and the residents in all 12 buildings made it out on their own, Cunningham said. The building where the fire began may be a total loss. The American Red Cross was at the scene Monday evening.
The power lines and rush-hour traffic congestion made fighting the blaze difficult, but the fire was struck out about 6 p.m., Cunningham said.
The fire appeared to be caused by a cigarette that was improperly discarded on the enclosed back porch, according to Fire Media Affairs Director Larry Langford.
Cunningham said "combustibles" and a steady breeze then accelerated the fire.
Dozens of onlookers and television news camera crews gathered along the edges of police crime scene tape at the intersection of Roscoe and Marshfield after the fire was struck out.
Mark Hewitt has lived across the street from 3338 N. Marshfield for six years and said emergency crews evacuated his building soon after their arrival. He said he planned to stay at a friend's home in Edgewater until he was allowed back inside his home.
He added the extent of the fire damage was quickly apparent.
"Within 15 minutes, that gray house was completely totaled," Hewitt said.