Illinois State Police trooper injured after driver strikes squad car on I-94
COOK COUNTY, Ill. - An Illinois State Police trooper was hurt after a vehicle crashed into their squad car on I-94 Friday night in Cook County.
The trooper's vehicle was blocking traffic from entering the flooded southbound lanes of Interstate 94 around 8:20 p.m. due to a major storm that had passed through the area, according to ISP.
A 2018 Jeep Compass that was traveling southbound failed to move over to avoid the squad car, which had its emergency lights activated. The Jeep crashed into the passenger side of the squad car while the trooper was still inside the vehicle, state police said.
The trooper was transported to a local hospital to be treated for non-life-threatening injuries, officials said.
SUBSCRIBE TO FOX 32 ON YOUTUBE
The driver of the Jeep, 62-year-old Zeina Youmaran, was issued a citation for Scott's Law, which requires people to slow down and move over whenever they approach an emergency vehicle with their lights activated.
Violators of Scott's Law face a fine of no less than $250 or more than $10,000 for a first offense.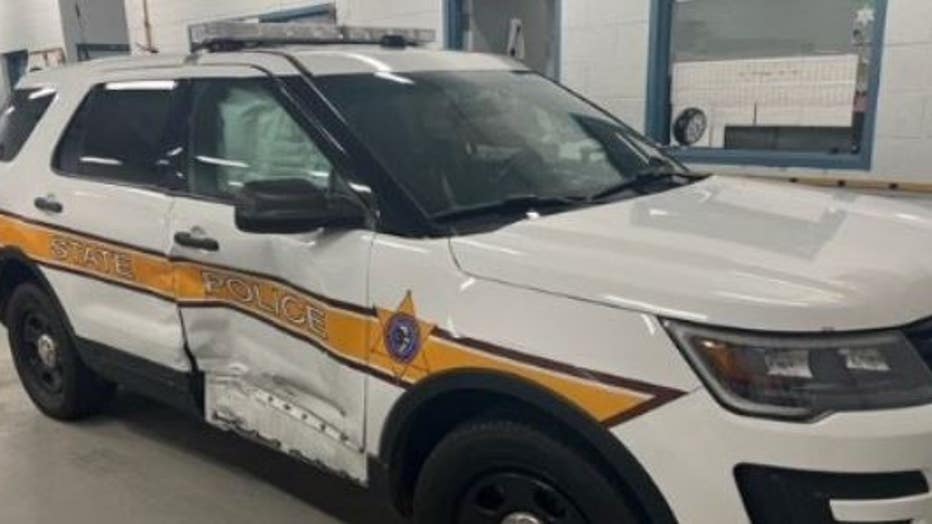 Courtesy of Illinois State Police