Krispy Kreme has new mini doughnuts for spring
CHARLOTTE, N.C. - To usher in the spring season, Krispy Kreme is helping fans "share a little sweetness" with new Spring Mini doughnuts. 
Starting March 27, customers in the U.S. can enjoy a custom, 16-count box of Spring Minis, which includes four different doughnuts inspired by the season's flowers and baby critters, according to the multinational doughnut company.
The boxes will feature Bouncing Bunny doughnuts, Diving Duck doughnuts, Daffodil doughnuts and Chocolate Iced with Spring Sprinkles doughnuts. 
"Spring is in the air and our new Spring Minis collection is here, so hop in to share a little sweetness with friends and family all season long," Krispy Kreme's global chief brand officer Dave Skena said in a press release Monday.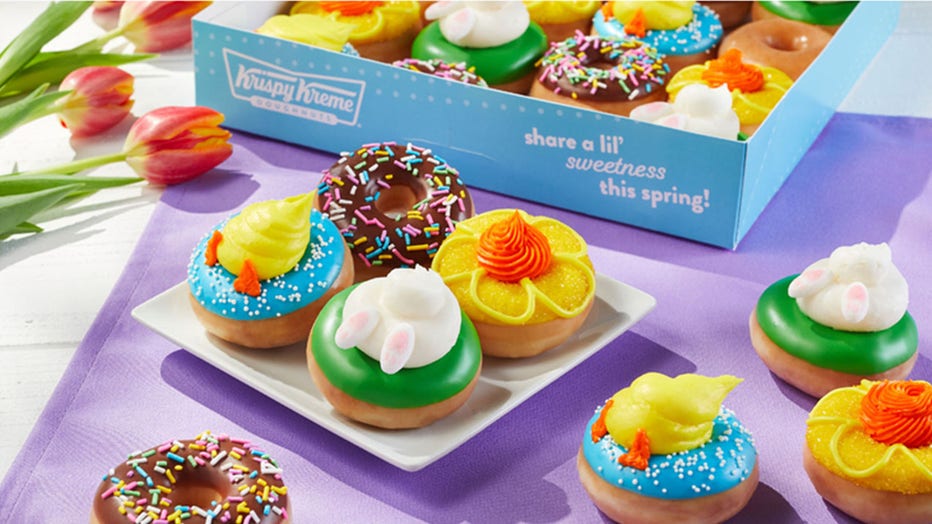 Beginning March 27, fans can try spring's cutest sweet treats inspired by the season's flowers and adorable baby critters, for a limited time (Photo: Business Wire)
Krispy Kreme says the Spring Minis will be available in-store through its app and website for a limited time. The assortment will also be available at select grocery stores. 
In addition, an 8-count box of Spring Minis will also be available at many local Walmart, Kroger, Food Lion, Publix, Stater Brothers and Wakefern stores. 
Headquartered in Charlotte, North Carolina, Krispy Kreme operates in over 30 countries. The doughnut chain is known for its iconic Original Glazed Doughnut. 
RELATED: McDonald's doing wider test of Krispy Kreme doughnut sales in Kentucky
This story was reported from Los Angeles.