Lawyer: Ex-Virginia governor to appeal to US Supreme Court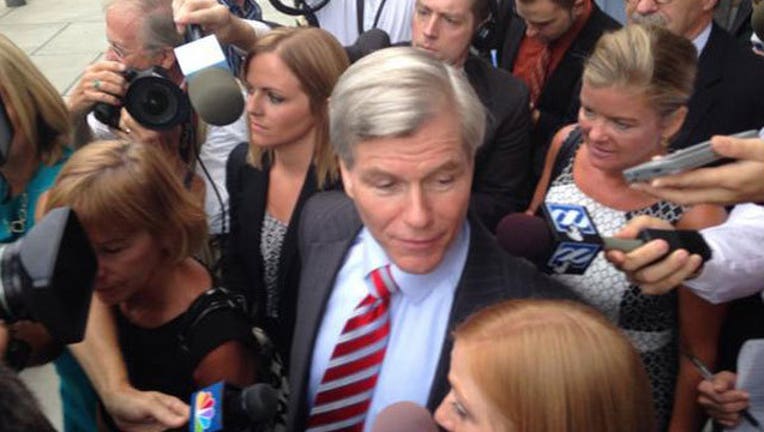 article
RICHMOND, Va. - RICHMOND, Va. (AP) -- Former Virginia Gov. Bob McDonnell will appeal his public corruption convictions to the U.S. Supreme Court now that a federal appeals court has rejected his bid for a rehearing, one of his lawyers said Tuesday.
But attorney Henry W. Asbill declined to say whether McDonnell will have to report to prison to begin serving his two-year sentence. He has remained free on bond since a three-judge panel of the appeals court unanimously upheld his convictions in July.
McDonnell could file a petition asking that he remain free until the Supreme Court decides whether to take his case. But Carl Tobias, a University of Richmond law professor who closely follows the Richmond-based appeals court, said it's likely that McDonnell will have to report to prison soon.
In its brief order Tuesday, the full 15-member 4th U.S. Circuit Court of Appeals said eight judges voted against reconsidering the panel's decision to uphold McDonnell's convictions. Seven others, "deeming themselves disqualified, did not participate," the order said. No explanation was given for what Tobias called an unusually large number of recusals.
Barry J. Pollack, a white-collar defense attorney in Washington who has followed the McDonnell case, said McDonnell's failure to get a single appeals court judge to agree to rehearing will not affect his chances of getting the Supreme Court to take the case.
"The Supreme Court's primary consideration is going to be the gravity of the issues and whether they feel there has been enough of these cases that there's confusion among the judicial circuits about what the standard should be," Pollack said.
In September, a jury found McDonnell and his wife, Maureen, guilty of doing favors for wealthy vitamin executive Jonnie Williams in exchange for more than $165,000 in gifts and loans.
The former Republican governor, once widely considered a possible running mate for presidential candidate Mitt Romney, was convicted of 11 counts and was sentenced to two years in prison. His wife was sentenced to one year and one day on eight counts. Both have been free while they pursue separate appeals.
The Richmond-based appeals court has scheduled oral arguments in Maureen McDonnell's case for late October.
According to trial testimony, Williams showered the McDonnells with lavish gifts - including a Rolex watch for the governor, about $20,000 in designer clothing for the first lady and $15,000 to pay for catering at a daughter's wedding - while the former Star Scientific Inc. president sought state university research on his company's signature product. He also loaned the McDonnells thousands of dollars on exceptionally favorable terms to help them pay off debt and keep their money-losing Virginia Beach vacation rental properties afloat.
Meanwhile, the McDonnells attended promotional events and hosted a product launch event for Anatabloc, the tobacco-derived anti-inflammatory manufactured by Williams' company. Bob McDonnell also arranged meetings with administration officials for Williams, who wanted not only the university research but also inclusion of Anatabloc in the state's employee health plan.
The former governor has insisted that he provided nothing more than routine political courtesies and access to Williams and that he was convicted under an overly broad definition of bribery.
He also claimed on appeal that his lawyers were not given enough opportunity to question whether any potential jurors had been influenced by intensive news coverage of his case.
© 2015 The Associated Press. All rights reserved. This material may not be published, broadcast, rewritten or redistributed.