Man loses over 200 pounds so he can fulfill dream of enlisting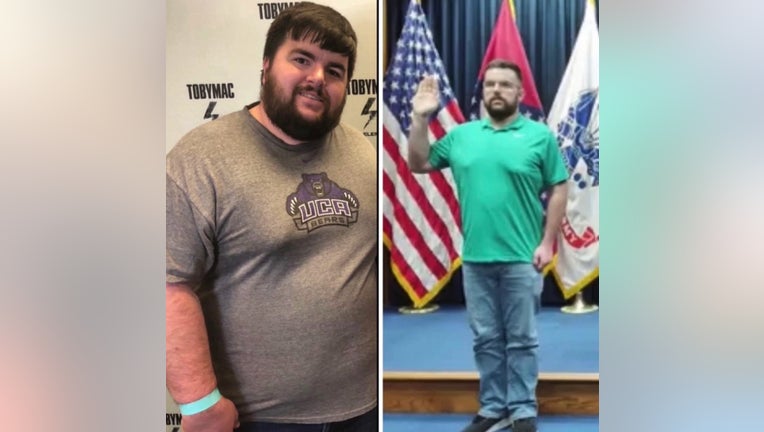 article
At 400 pounds, Aaron Schichtl knew the dream of serving his country couldn't become a reality without drastic change.
After more than a year of hard work and the help of the Kentucky Army National Guard's new Holistic Health and Fitness (H2F) program, Schichtl's transformation is only the beginning.
According to the National Guard, H2F helps recruits and soldiers improve their overall health by focusing on nutrition, sleep, mental and spiritual readiness, and more.
READ MORE: Pandemic pounds pushed thousands of U.S. Army soldiers into obesity
"Each person is unique with their needs and goals," said the H2F coordinator who worked with Schichtl on his weight loss journey.  "We are able to gather data from recruits and current seasoned soldiers and then provide them a plan that we monitor and change as needed."
The first step in the program was a comprehensive health assessment, which included measurements of Aaron's body composition and other health analysis.
For the next 18 months, Schichtl followed a diet rich in fruits, vegetables, lean proteins and whole grains. He also incorporated regular exercise into his routine.
READ MORE: Man loses nearly 400 pounds, keeping promise to grandmother
"Slowly but surely, Schichtl began to see progress," the Army said. "He started to lose weight, and his body composition improved. He felt stronger, more energetic and more confident than ever before, and he even started to enjoy his workouts."
And his lifestyle change paid off in a big way: Schichtl lost more than 200 pounds to meet the Army's weight requirements. Now, Schichtl is off to basic training before heading to Combat Engineer Advanced Individual Training at Ft. Leonard Wood, Mo.
Schichtl says he remains committed to his health and fitness going forward, and fortunately, he won't be the only one. The H2F program includes follow-up and real-time support for soldiers.