Marist students sue after being expelled over racist text messages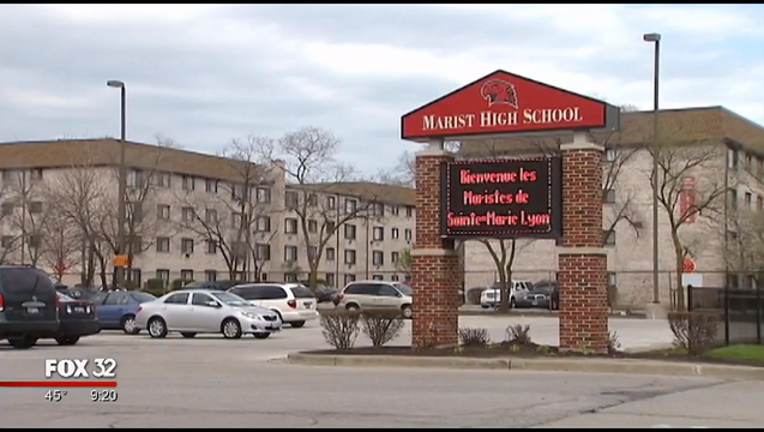 article
CHICAGO (SUN TIMES MEDIA WIRE) - Two Marist High School seniors claim they were "used as scapegoats" by administrators who expelled them from the Far Southwest Side school for being part of a racist group text message conversation that sparked protest and tension last month in the Mount Greenwood neighborhood.
The white teenagers were among 32 girls included in the conversation, which started after they met at a September religious retreat where they were promised that anything they said "would be strictly confidential," according to a lawsuit filed anonymously Monday in Cook County Circuit Court by the girls' fathers.
When Black Lives Matter protesters planned to demonstrate in the neighborhood after a black man was gunned down by an off-duty Chicago Police officer on Nov. 5, someone in the girls' text conversation shared a tweet claiming protesters were going to bring along gang members to kill white residents in retaliation, the suit says.
The girls acknowledge in the suit that they made comments that "others believed to be racially insensitive." Screenshots of the ensuing conversation, which the suit claims were "altered" by another participant, show one person saying "I F—— HATE N——" and another agreeing.
Five students in the conversation were either suspended or expelled from the school at 4200 W. 115th St., including the plaintiffs, who were kicked out "without any formal disciplinary process," according to the suit. It includes a Nov. 10 letter from administrators to parents that said an unspecified number of "students involved in this event will not be in attendance at Marist."
Principal Larry Tucker and disciplinary dean Beth O'Neill are listed as defendants in the suit, along with the school.
After the messages spread on Facebook and Twitter, the school issued a statement Nov. 7 saying the school was "devastated by this situation."
"Disciplinary action is being taken," the statement said. "As a school community, we continually work so that each student feels welcome, valued, and safe."
A Marist spokesperson said the school does not comment on pending litigation.
The suit alleges the girls were "labeled as racists and used as scapegoats by Marist to respond to an array of social media criticisms and media pressure," and that the school allowed other people to share the girls' full names in comments on Marist's social media posts, violating their privacy as minors and jeopardizing their college admissions.
Additionally, the girls claim administrators were unfair in singling them out in the 287-message conversation with dozens of others who used "similar language."
Their fathers want the girls reinstated at the school or reimbursed $65,000 each for tuition and school costs. They also are seeking more than $1 million for privacy invasion.
Classes were canceled Nov. 11 ahead of the planned protest, which also was canceled due to safety concerns. Instead, activists met with school and police officials the following week to discuss race relations.