President Trump vows to 'dramatically reduce income taxes'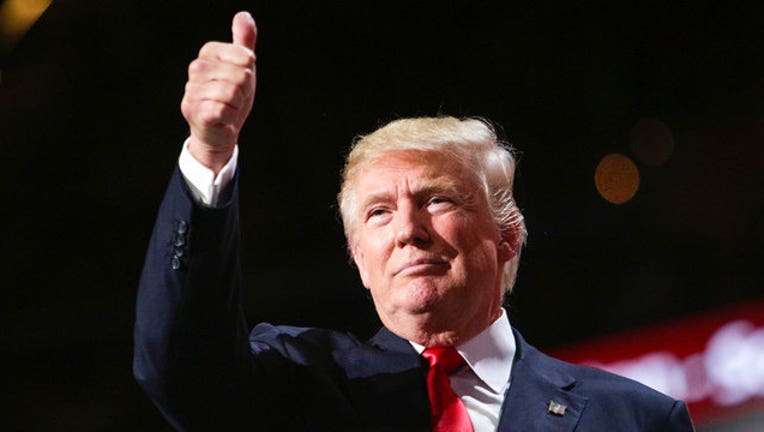 article
BISMARCK, N.D. (AP) - When Donald Trump brings his tax reform tour to North Dakota, he'll be on friendly turf - a deep-red state he carried by 36 points last year, and one that got an immediate boost when he threw his young presidency behind a controversial oil pipeline.
But even Trump backers in North Dakota want to see more detail about what he's got planned when it comes to taxes beyond the limited aims sketched out so far.
"The taxes need to come down much lower," Art Wood, 78, a retired pastor who was chatting with friends at a Fargo shopping mall, said Friday. "I don't understand a lot of it, so I hope he explains it to us next week."
Wood's ask for lower taxes is at the core of Trump's dilemma as he sets out to try to sell his supporters on his push to rewrite the tax code - a campaign that will take him to North Dakota Wednesday. The celebrity businessman cemented his coalition with populist promises to give an economic boost to people left behind by the slow recovery of the Obama years. But both he and his party also have made big promises of lower tax rates to corporate America and top earners. Reconciling those two elements, while holding to the party's stated opposition to increasing the deficit, is as difficult as it gets.
Trump isn't expected to add much meat to the bone on Wednesday. After months of trying to write a plan, Trump's economic advisers now say they will leave the details to Congress, which is slated to return from August recess this week.
"I want to work with Congress on a plan that is pro-growth, pro-jobs, pro-worker and pro-American," Trump wrote in a Labor Day op-ed in the Milwaukee Journal Sentinel.
Trump said his plan would "dramatically reduce income taxes for American workers and families," nearly double the standard deduction "to help families get ahead," and make an overly complicated tax code "more simple and fair."
"It will put money back into the pockets of the people who earned it. And it will bring back American jobs by making our businesses competitive once again," he wrote.
Trump's stop on Wednesday will bring him to a state eager to see him return. As a presidential candidate, Trump traveled to Bismarck last year to unveil his "America first" energy plan aimed at spurring production of oil, coal, natural gas and other energy sources. Days after becoming president, Trump pushed for approval of the $3.8 billion Dakota Access pipeline that began moving North Dakota oil through South Dakota and Iowa to Illinois on June 1.
He was expected to speak Wednesday at an oil refinery in Mandan, just across the Missouri River from Bismarck, U.S. Sen. John Hoeven said.
In North Dakota, where the economy has cooled in recent years as the oil boom ebbed and crop prices fell, voters said they would welcome lower taxes. Some had ideas for Trump. Others were skeptical.
Barbara Arbach, 67, a retired legal secretary from Bismarck, said she was eager to hear the plan. She backed Trump in November and said she would even try to attend his appearance if not for recent hip surgery and a bum knee. Still, she expressed doubts that it would please both sides of the income ladder.
"Somebody is going to have to give up something," she said. "There will be winners and losers."
The jockeying and lobbying among groups trying to protect their preferred deductions and credits will no doubt be fierce as the plan develops. It's the sort of policy puzzle that can quickly anger powerful interests and bring unexpected alliances.
Tom Kapla, a Bismarck dentist who voted for Trump, said he'd like a revised tax code to include deductions for parents who pay tuition for their children attending college.
"I'd like to see a corporate income tax reduction," Kapla said. "Because I'm a corporation."
Trump's agenda is broader than testing out his tax message. He'll also have the chance to weigh in on the state's high-stakes U.S. Senate race next year, where Republicans hope to unseat Democratic Sen. Heidi Heitkamp. Heitkamp narrowly won the state in 2012, but is personally popular and has been careful to stake out policy positions that don't stray too far from the state's right-leaning electorate.
The GOP doesn't have a clear front-runner, though U.S. Rep. Kevin Cramer is weighing a bid. It's not clear who might appear with Trump.
John Fraase, a 29-year-old accountant from Fargo who leans Republican, called tax reform a divisive issue. Trump's promise of cutting taxes for the average worker - even if successful - likely would not be enough to satisfy most of the middle class, he said.
"People complain," said Fraase, who said he wrote in Abraham Lincoln on his presidential election ballot last year. "There will be a lot of whining with whatever happens."