Rauner, wife appear together at youth policy panel amid lawsuit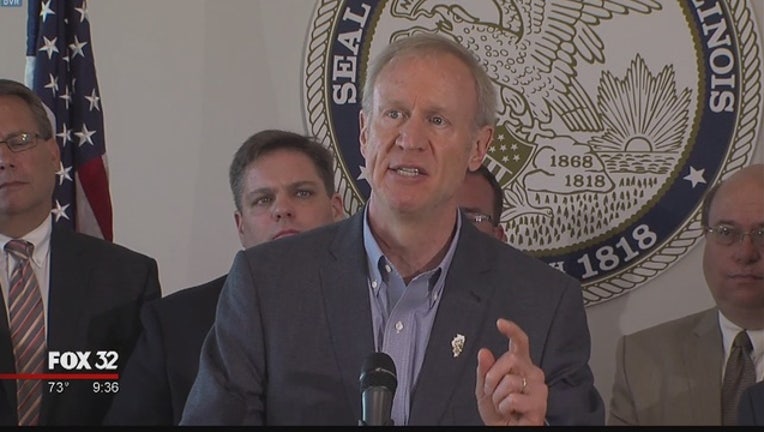 article
SPRINGFIELD, Ill. (AP) - Illinois Gov. Bruce Rauner and his wife, Diana, made a rare joint appearance Thursday at a cabinet discussion about youth policies amid her nonprofit group's involvement in a lawsuit against his administration.
Diana Rauner, a Democrat who runs a child advocacy group called the Ounce of Prevention Fund, sat opposite her Republican husband at the two-hour meeting. But the pair did not interact until she delivered a presentation on early childhood education.
The show of unity came as the Rauner administration is battling a lawsuit by 82 social service providers, including Diana Rauner's Ounce, demanding that the state pay up on $130 million that is locked up in the first-term governor's nearly yearlong budget standoff with Democratic lawmakers.
The awkward situation for the couple has raised eyebrows -- and at least one jab at Rauner, by Chicago Mayor Rahm Emanuel -- over Diana Rauner's twin roles as first lady and social services advocate in Democratic-leaning Illinois.
The meeting on Thursday was the second for a cabinet created by Rauner earlier this year to address improvements to education, health and safety for children, and to streamline inter-department collaboration. It includes about 20 leaders from different state departments.
Diana Rauner participated in the cabinet's first meeting in March, but only by phone through a conference call.
At Thursday's meeting, neither Rauner directly mentioned the budget crisis. But in her remarks, Diana Rauner said the complex combination of federal, state and local money flowing into education is a "hot mess." The governor didn't have an immediate reaction.
She also praised Illinois' efforts in "building an early childhood system in this state since 1985," noting state laws solidifying Illinois' commitment to education for children from birth to age 3.
The governor, in his remarks, said the panel needs to make the education component of the group's goals more of a priority.
"Education is so big and so critical and in my view not well-baked enough here yet," he said.
At the end of the meeting the governor said, "It matters more to get it right than to rush," adding: "then we'll end up not only failing to deliver quality service, we'll hurt taxpayers, and we just won't be where we need to be. We got to do this right."
In the lawsuit, which targets Rauner and state agencies, the social service providers claim the governor created an "unconstitutional" situation by vetoing appropriations while enforcing contracts for services. For Ounce, it means about $7 million in state funds is unavailable. 
The governor has previously acknowledged the odd situation with his wife, saying she is angry about the impasse and lets him know, but that she's also mad at Democrats who control the House and Senate.