Scorching summer predicted across US with no areas forecast to be cooler than average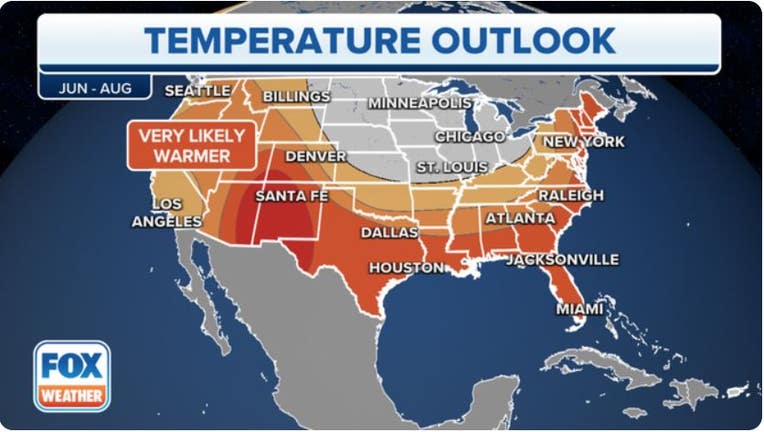 article
Summer 2023 is expected to be a scorcher for millions of Americans in the West, South and East, according to a long-range outlook issued by NOAA's Climate Prediction Center (CPC).
The forecast covers the three-month period of June, July and August, also known as meteorological summer.
Residents of the Southwest and southern Rockies have the highest likelihood of hotter-than-average temperatures this summer. However, the CPC also predicts a 50% or higher chance of above-average temperatures for a large area stretching from the Four Corners region through the Gulf Coast states and along the East Coast from Florida through Maine.
The odds of above-average temperatures fall below 50% from the West Coast to the northern and central Rockies to the mid-South to interior portions of the Southeast, mid-Atlantic and Northeast. However, a warmer-than-average summer is still favored in those regions.
According to the CPC, no areas in the U.S. are expected to have a cooler-than-average summer, but the northern and central Plains, Midwest and Great Lakes are predicted to see temperatures relatively close to average between June and August.
HERE ARE THE TOP 10 BEST SECRET BEACHES IN THE US
Wet summer predicted east of Mississippi River
The three-month rainfall outlook from the CPC suggests parts of the Midwest, South and East could be in for a wet summer.
Above-average rainfall is most favored in parts of the mid-Mississippi, Ohio and Tennessee valleys. However, most areas east of the Mississippi River are predicted to have a wetter-than-average summer.
WHY IT RAINED WHEN YOUR WEATHER APP SAID THERE WAS ONLY A 20% CHANCE OF PRECIPITATION
The rainfall outlook for June, July and August 2023 from NOAA's Climate Prediction Center. (FOX Weather)
Meanwhile, this summer is expected to be drier than average in portions of the Southwest and Northwest, with the highest likelihood of below-average rainfall centered over eastern Arizona, New Mexico and far West Texas.
The remainder of the U.S. should see rainfall amounts that are pretty typical of summer, according to the CPC.
Keep in mind that these temperature and precipitation outlooks cover an entire three-month period. An individual cold front or upper-level area of high pressure can bring a brief period of cooler and wetter or warmer and drier weather, respectively, that doesn't align with the overall trend for the next three months.