Senate frustrated by Rauner agencies' budget-cut silence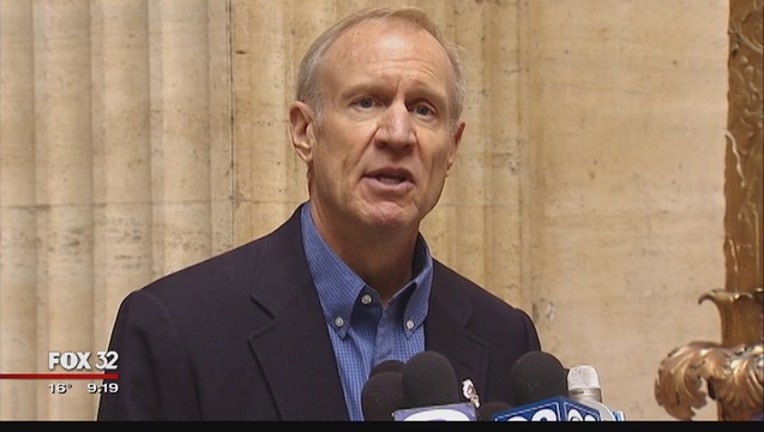 article
SPRINGFIELD, Ill. (AP) - Illinois Gov. Bruce Rauner said Tuesday that Senate Democrats must make "real spending cuts" in their proposed budget compromise, just hours before his agency directors refused to offer suggestions for reductions when asked by Senate committees.
The Republican governor's comments were his first on the derailment last week of the Senate's proposed "grand bargain" to break a two-year budget stalemate. Democrats scuttled key votes on the plan - including an income-tax hike and a property-tax freeze - when they accused Rauner of persuading GOP lawmakers to vote against the measures. He denied pressuring anyone and said Tuesday he opposes the package, negotiated by Democratic Senate President John Cullerton and Republican Leader Christine Radogno, because it spends too much.
"From what I've been told, based on what's in the package so far, they don't make any real spending cuts," Rauner said. "So the budget's not balanced. That's one challenge. I've said please try to get that done - that's pretty critical."
Rauner and Democrats who control the Legislature have deadlocked on an annual spending plan for two years. Rauner insists on reducing spending and making regulatory changes to boost business, while Democrats have focused on tackling a multibillion-dollar deficit with a tax increase as well as spending cuts.
But some of Rauner's cabinet members would not cooperate later Tuesday when Democratic-controlled Senate committees asked for suggested spending reductions. The committees invited the heads of various agencies administering education, human services, juvenile justice, public health and more to say what programs and services they're ready to cut if the Republican governor won't support the grand bargain.
"Our hands are tied. We do not know where to go," Sen. Jennifer Bertino-Tarrant of Shorewood, the Education Committee chairwoman, told state schools Superintendent Tony Smith.
Smith pledged cooperation but declined to answer specific questions on the orders of James Meeks, the chairman of the State Board of Education.
"The chairman directed me not to say anything about reductions," Smith said.
Human Services Secretary James Dimas responded similarly to questions from the Human Services Committee.
Dimas said he thought the panel had invited him to discuss the agency's proposed budget. "We did not come prepared to discuss budget cuts," said Dimas, who added that he would be able to say more when asked to testify to an appropriations committee.
House and Senate appropriations committees traditionally dig into the details of agency budgets, but nothing stops panels overseeing substantive issues such as public schools or social services from asking for the same information.
Rauner's office would not comment on why the cabinet members were not allowed to speak. Spokeswoman Eleni Demertzis issued a statement saying the General Assembly should cooperate with Rauner on passing a balanced budget. But the one the governor proposed is at least $7 billion underfunded. He needs authority to make adjustments on his own and successful "grand bargain" savings of more than $4 billion to make it balanced.
___
Burnett reported from Chicago. Contact her at http://www.twitter/sara_burnett and Sepeda-Miller at http://www.twitter/kiannahsepeda